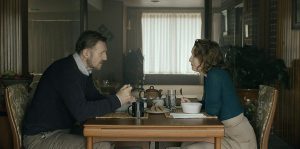 NEW TO HULU! I'll never forget the moment when after finding a large lump in her breast, my wife's doctor suggested that she "get her affairs in order." The tumor in her breast had grown from the size of a pea to a golf ball in only three weeks, and our lives changed forever. Lisa Barros D'Sa and Glenn Leyburn's film Ordinary Love chronicles the journey of an older couple as they struggle with breast cancer. Yet, somehow this film manages to mirror the three-year battle my wife and I fought (mostly my wife) with cancer.
Every evening Joan (Lesley Manville) and Tom (Liam Neeson) takes a brisk walk across the bridge and back to their home in Northern Ireland. After one particular evening's walk, Joan takes a shower and discovers a lump in her left breast. Acting fast, she immediately consults her physician, who tells her it's probably a cyst but to go to the hospital to play it safe. This starts the spiral of the unknown for Joan as Tom takes comfort that it's only a cyst. It would be roughly two weeks before she gets an appointment, and the mind games begin.
"…Joan takes a shower and discovers a lump in her left breast."
After the necessary tests, it is confirmed that the lump is indeed a tumor, and Joan goes into surgery to remove the lump and affected lymph nodes, followed by a double mastectomy, and finally chemotherapy. Tom, on the other hand, is trying to be the supportive husband, but sometimes his aggressive questions for Joan's oncologist is too much for Joan to handle.
But thankfully, the couple is not alone. The two finds support from the hospital staff, fellow patients, and loved ones. While the pair is optimistic about the prognosis, they run into their deceased daughter's school teacher, Peter (David Wilmot), who they learn is terminal, and being in the clinic scares his partner Steve (Amit Shah) to the point where he won't join him during treatments.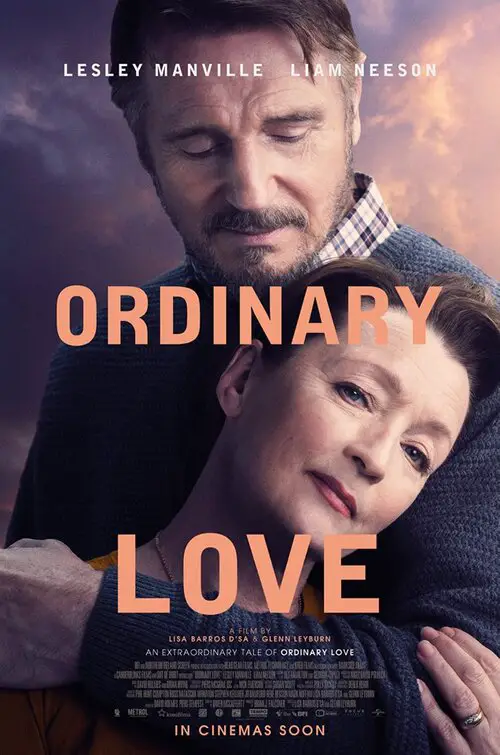 "…Neeson plays regular guy very well..."