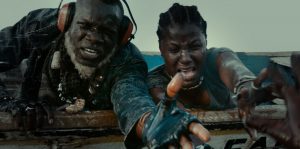 NOW ON SHUDDER! "Here, they say that revenge is like a river," states a character in Jean Luc Herbulot's wildly original sociopolitical horror-thriller Saloum. "And our actions are the dugouts guided by the current." The film's unpredictable narrative similarly resembles a river, its twists and turns the dugouts guided by the writer-director. Scathing-yet-subtle in its condemnation of oppression and colonialism, tongue-in-cheek about subverting multiple genres (mainly thriller, horror, and western) into a surprisingly satisfying brew, the West African feature speeds along, packing as much as it can into a slim 80 minutes but never buckling under the weight of its lofty ambitions.
That's partially because everyone involved seems to have had a blast concocting the almost-mythical tale, set against an all-too-real backdrop of sociopolitical unrest. The year is 2003. Colorful title credits cheerfully announce the names of the three protagonists – mercenaries Chaka (Yann Gael), Rafa (Roger Sallah), and Minuit (Mentor Ba) – who, after barely escaping a brutal coup in Guinea-Bissau, are shot down over Saloum, Senegal. With them is local cartel lord Felix (Renaud Farah). In this sacred region, "where the river embraces the sea," our antiheroes discover the idyllic Baobab Camp, where they seek "fuel, resin and relaxation."
Not all is idyllic as it seems. For starters, they have to perform chores in exchange for staying, as one of the central trio complains, "So we pay nothing, but we're their b*****s for three days." More crucially, however, is the general vibe of shadiness amongst the guests, as if they all have an ulterior motive. Before the deaf and mute Awa (Evelyne Ily Juhen) can say, "Stories about heroes travel faster than bullets," Saloum takes a 180-degree turn, wherein the spirits of Sira Bana, a powerful, vengeful entity, attack the village.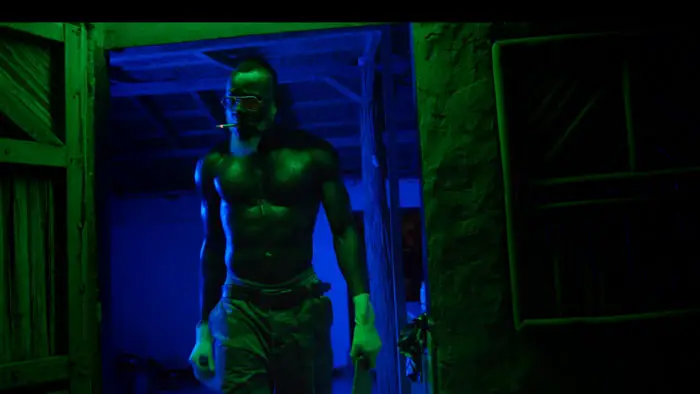 "…after barely escaping a brutal coup in Guinea-Bissau, [they] are shot down…"
Yes, you heard me right, spirits. Nasty things, too. In a feat of subtle but impressive visual effects, the terrifying creatures that emerge in the final 20 minutes are difficult to pinpoint, constantly morphing, surrounded by flies, or maybe tiny birds, with red eyes that glisten here and there, and horns on what's presumably their heads. "When you hear them, you will die," someone warns, so Chaka, Rafa, and Minuit don headphones and go hunting.
Saloum is a breath of fresh air, with its go-for-broke attitude, extreme stylization, and very real horrors inflicted by humanity likened to the mythical horrors wreaked by monsters. The film seems as inspired by local mythology as it is by exploitation flicks of yore. Herbulot examines the meaning of heroism and revenge, tyranny and repression, even touches upon ecological issues, but never loses sight of the narrative's driving momentum: its "Neill Blomkamp and Agatha Christie meet Quentin Tarantino" pulpy plot.
There are some talky bits, and some may find the layering of themes/genres/plots a bit too thick. I can't help but point out an (arguably minor) pet peeve of mine: quite a few of the characters wear giant sunglasses, which not only hide those "windows into souls" but also reveal the entire film crew in their reflections, taking me out of the narrative. More frustrating is that this blunder is easily solved by either (gasp!) taking off the glasses or erasing the reflections in post.
Those are minor nitpicks in what is a stellar second feature from a promising filmmaker. By turns horrific and hilarious, touching and repulsive, it showcases West Africa as an emerging force in contemporary cinema. "They say that revenge is like a river," a character in Saloum says, "whose bottom is reached only when we drown." One could say the same about ambition, and if so, Herbulot has a long swim ahead of him.
Saloum screened at the 2021 Toronto International Film Festival and the 2021 Fantastic Fest.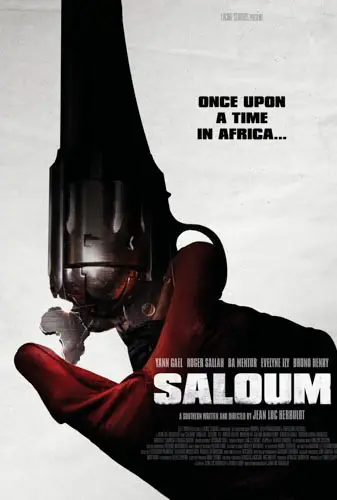 "…a stellar second feature from a promising filmmaker."