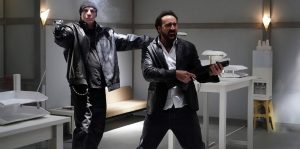 NEW TO THEATERS! Prisoners of the Ghostland stars Nicolas Cage and Bill Moseley in a Japanese Western. Really? Umm, yes, please! Add in that the director is Sion Sono of Suicide Club and Why Don't You Play in Hell? fame, and I was hooked before it even started. I was sure that this was going to be at least a little crazy because Nic Cage is in it, but I wasn't prepared for exactly how weird it would actually be.
Nicolas Cage, who is nameless until midway through, when he starts being called "Hero," is robbing a bank with his partner in crime, and of course, the whole thing goes off the rails because it's a bank robbery and it's a Sion Sono movie. The next thing we know, Cage is in a cage. He's in prison in a place called Samurailand. He's brought out of his cell one day by the leader of the town, a man simply known as The Governor (Bill Moseley). The governor is clad in all white sans his red gloves and is some kind of bearded bastardization of Colonel Sanders. He tells Hero that if he rescues his granddaughter, Bernice (Sofia Boutella), within five days, he can be free.
There is, of course, a catch. Hero is given a suit that has explosive devices in both arms, near both testicles (no, I'm not kidding), and on his neck. The explosives are sensitive, so the possibility of him getting killed or maimed in some fashion is pretty much guaranteed. Little does Hero know that he has to go to a horrible place called The Ghostland to rescue Bernice. The Ghostland is a place right outside of Samurailand that is haunted by ghosts that died in a nuclear explosion. The people are trapped there, and they seem to believe that upon Hero's arrival, that he might be able to help them escape.
"…ghosts that died in a nuclear explosion…believe that upon Hero's arrival, that he might be able to help them escape."
What then follows is just straight out insanity from beginning to end. Outstanding martial arts and sword-fighting. A LOT of singing and choreography, like way more than you would ever expect in an action film. There are living mannequins, nuclear ghosts, and so much more. Sono has always helmed interesting titles, but he really went all out with his English language debut. This action/ horror/ thriller/ Western has just about anything you could want. It's a multi-genre mindf*ck that will leave you thinking, "What the hell did I just watch?" in a good way, though, for sure.
Prisoners of the Ghostland was supposed to be shot in Mexico, as an homage to Westerns and Sergio Leone in particular, but very soon before the start of the movie, Sono suffered a heart attack. Cage then had the idea to shoot in Tokyo. I think it was the right choice, especially considering the nuclear ghosts, which I feel were a nod to the Fukushima disaster and also, of course, the bombings on Hiroshima and Nagasaki.
The production design is absolutely incredible, as well as all the choreography for the multiple song-and-dance sequences. The impressive fight choreography gorgeously captures the abundant violence. Cage is in top form as a world-weary bada** who needs to save the day. Moseley is so good at playing evil that I couldn't imagine anyone else playing The Governor. Tak Sakaguchi as The Governor's bodyguard is excellent, giving a quiet but soulful performance.
I think that Prisoners of the Ghostland belongs in the category that was previously only really reserved for Jodorowsky's El Topo, and that is the Acid Western. It embodies and revives that category of movie. If you like Westerns, martial arts, Japanese cinema, Nicolas Cage, or anything weird AF, then this is certainly for you. Don't delay in seeking it out!
Prisoners of the Ghostland premiered at the 2021 Sundance Film Festival.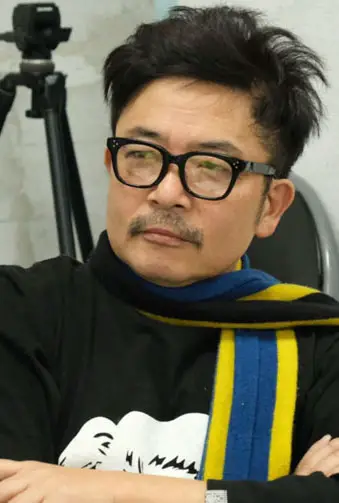 "…multi-genre mindf*ck that will leave you thinking..."