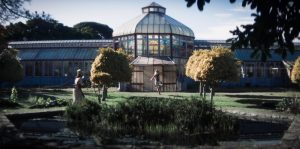 FANTASIA FILM FESTIVAL 2021 REVIEW! I won't mince words: co-writer/director Kelsey Egan's Glasshouse is my favorite film of the year so far. What sets this science-fiction drama apart from the 70-something other titles I have seen this year already? The sheer inventiveness of the story, which was shot at and around the Pearson Conservatory in South Africa. Co-writer Emma Lungiswa De Wet visited the beautiful sprawling mansion as a child and figured it would be the perfect setting for a story.
Mother (Adrienne Pearce), Bee (Jessica Alexander), Evie (Anja Taljaard), Daisy (Kitty Harris), and Gabe (Brent Vermeulen) all live in a beautiful, old glasshouse. The family has been there for God knows how long. We soon learn that there is a plague-like disease called The Shred, which takes away the memories of those who breathe the air outside. So the family has created makeshift masks to carry out their outdoor activities.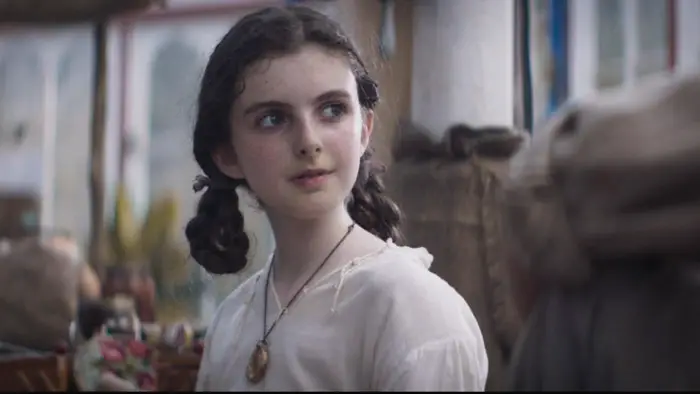 "…Bee doesn't kill one of the trespassers…she believes to be her long-lost brother Luca…"
Their life is steeped in ritual, whether it comes to killing and disassembling "forgetters" (i.e., trespassers from the outside world), tending to their vegetable garden, which is fertilized by the deceased forgetters, or reciting a family prayer of sorts before dinner. All of this seems weird, yes. Post-apocalyptic but still a little idyllic. However, as most of these stories go, things start to get menacing. Particularly when Bee doesn't kill one of the trespassers that come onto the property, who she believes to be her long-lost brother Luca (Hilton Pelser). But is he? The handsome stranger causes quite a stir with the whole family until the tenuous thread that holds them together starts to unravel completely.
While Glasshouse obviously fits into the sci-fi category, the best part about it is all the DRAMA! There are secrets revealed and hidden at every turn. You never quite know what's going on until the truth hits you like a ton of bricks. All the performances are great, but I feel like I should mention Kitty Harris' debut performance especially. She's one of the best child actors I've seen in a while, and I'm excited for what she does next. Anja Taljaard's interpretation of the miserable Evie is also very entertaining to watch. I have never seen her in anything before this, so I'm looking forward to more of her work as well. I can really say the same about the whole cast. It's a perfect ensemble.
I won't drive you down any more of the twisted-as-hell roads the movie takes us because it would be unfair. The viewer should be just as shocked as I was when watching Glasshouse when the secrets of this creepy little family are revealed. Anyone who likes gothic horror and science fiction will appreciate what Kelsey Egan and Emma Lungiswa De Wet offer. They create a beautiful and horrible world in which you cant help bet get lost. As I said before, it is my favorite film of the year so far, so if that carries any weight with you, seek this gem out.
Glasshouse screened at the 2021 Fantasia Film Festival.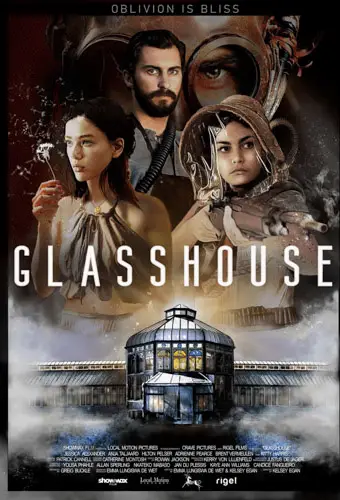 "…my favorite film of the year so far..."