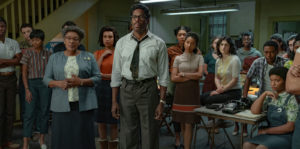 TORONTO INTERNATIONAL FILM FESTIVAL 2023 REVIEW! Former president Barack Obama is an executive producer of director George C. Wolfe's biopic celebrating civil rights leader Bayard Rustin, Rustin, written by Julian Breece and Dustin Lance Black. The 1963 March on Washington was a pivotal moment in civil rights history that helped pass the Civil Rights Act of 1964. It will always be remembered for Martin Luther King Jr.'s "I have a dream" speech.
But the most influential person in making it all happen, Bayard Rustin (the wildly charismatic Colman Domingo), remains relatively unknown. That's because he was a gay man who was sidelined in the movement because of his sexuality. Rustin has a long list of civil rights accomplishments, only some of which are detailed in the movie. In 1942, thirteen years before Rosa Parks did the same, he refused to move to the back of a bus in Louisville. He was arrested and beaten.
Later, Rustin helped put forward his friend Martin Luther King Jr. (Aml Ameen) as a civil rights leader and helped to found the Southern Christian Leadership Conference with him. When politicians started to circulate rumors that King and Rustin were lovers to sideline King, Rustin stepped aside. Years later, he'd return to help conceptualize, plan, and lead the March on Washington.
Chris Rock takes a decidedly uncomedic turn as Roy Wilkins, the head of the NAACP. He initially did not favor the march and against Rustin having a leadership role. It is interesting casting, and the actor does a fine job; although he is so iconic as a comedian, it is almost impossible for him to disappear into the character. Jeffrey Wright shines, as always, as Representative Adam Clayton Powell, another leader who attempted to smear Rustin and have him step aside. And finally, Glen Turman brings incredible gravitas to Rustin as the man's mentor.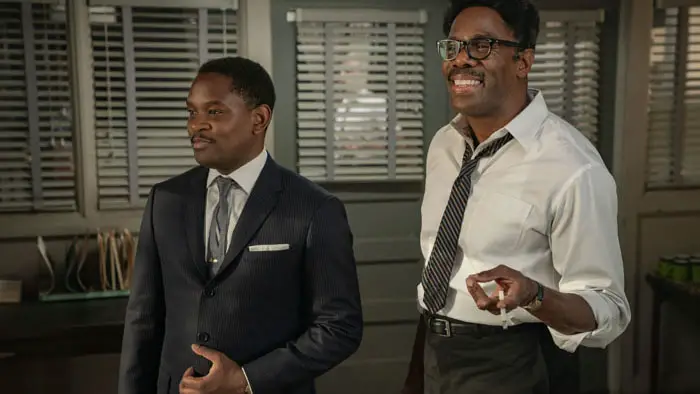 "…a gay man who was sidelined in the movement because of his sexuality."
The character is established via some of his earliest work in the movement, though the story spends the bulk of its runtime on the planning and lead-up to the march. Thus, it avoids most of the "everything but the kitchen sink" pitfalls that most biopics suffer from and provides plenty of drama. A highlight is that the film isn't afraid to take a magnifying glass to the inner struggles of the civil rights movement, warts and all, even when there were substantial blind spots regarding sexual orientation and the role of women.
Of course, Rustin is also a magnifying glass to America in the early 1960s. We're reminded that advances in rights aren't inevitable. Moving public opinion is often a calculated affair, requiring hard work for decades on end. In the moment, it can be hard to know which strategies will succeed and which will fail, and it is that conflict that gives the drama its vitality.
Breece and Black deserve a lot of credit for distilling the complexities of Bayard Rustin's life into a compelling and dramatic narrative. Wolfe delivers a movie that feels so much more fun, interesting, and full of life than his last film, Ma Rainey's Black Bottom. But the real heart and soul of Rustin is the astounding performance of Colman Domingo. He's captivating every second he's on screen and seems to inhabit the character completely. This kind of part and performance doesn't come around very often, and I fully expect him to be nominated as Best Actor for the role.
In fact, I expect plenty of awards chatter because Rustin is an important story well told, with an outstanding must-see lead performance. That's quite a coup for Netflix, which will release Rustin in theaters on November 3 and then on the streaming platform on November 14. It turns out this new producer in town, Barack Obama, might be pretty good.
Rustin screened at the 2023 Toronto International Film Festival.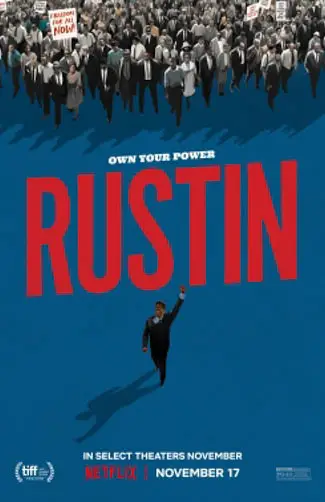 "…I expect plenty of awards chatter..."