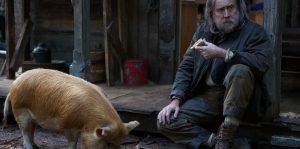 NEW TO HULU! I have such deep admiration for the intentions behind director and co-writer Michael Sarnoski's odd little film, Pig. The idea it centers on is intriguing, and this Nicholas Cage vehicle is one weird little movie, clearly made for a small niche audience. But maybe that is exactly why you might give it a shot.
Cage plays Rob, who goes out into the forest with his beloved pig and hunts for truffles each day. Then Amir (Alex Wolff) comes along at the end of every week to buy the found bounty. Seizing an opportunity to make money off the treasuring-finding creature, Amir offers to buy Rob's pig. However, after he refuses, a small gang breaks into the cabin, assaults Rob, and steals his pig.
For the rest of the film, Rob searches for his pig. Along the way, he teams up with Amir, who swears he didn't steal her. The investigation takes him into the seedy underbelly and cutthroat world of fine dining. So Rob heads into the city he left long ago in search of clues to finding the pig. Unfortunately, his first destination is a sort of Top Chef fight club, where he is mercilessly beaten for his past crimes. In this culinary arena, we learn that Rob had a past as one of the region's most prolific chefs and was unceremoniously thrown out and sent into exile. Thus the brutal beating.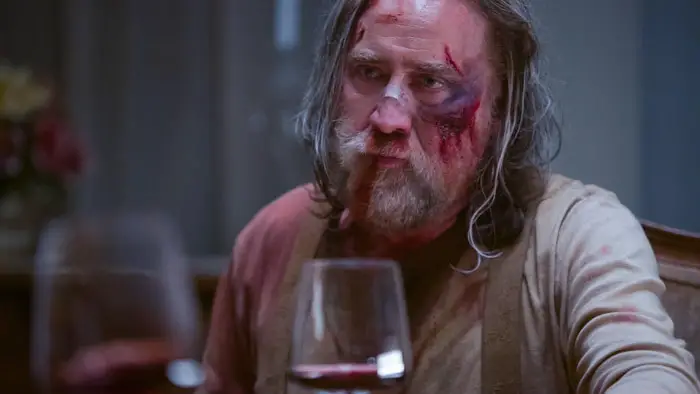 "…a small gang breaks into the cabin, assaults Rob, and steals his pig."
Pig asks what would it look like if Gordon Ramsey's life were turned into an action movie, just minus the big setpieces that would imply. Of course, only Nicolas Cage could play the role of the hermit Michelin-star chef, who goes into seclusion after the mysterious death of his wife. Wolff is great as the questionably good-hearted sidekick. He sits at the center of the tension between his father, played by Adam Arkin, and Rob.
Sarnoski and co-writer Vanessa Block make some interesting storytelling choices throughout the dramatic thriller. The most critical one was not having any real, traditional Nic Cage fight scenes. Though Rob takes a lot of punches, he never takes a single swing himself. Instead, his fighting is literally done on the cutting board, as he uses his culinary skills to track down his pig and solve the death of his wife. The final "battle" is fought in food prep for a casual dinner between Rob, Amir, and Amir's father. Whether this is a good or bad thing is up to individual preference, I suppose.
While Pig is grounded as hell and never resorts to 1960s Batman theatrics, it does takes itself way too seriously. Look, the story, on its face, is pretty silly and requires a high suspension of disbelief. But the tone drowns out the inherent goofiness to be a serious-minded drama. Was that the right call?
So I'm conflicted over recommending Pig. In the end, my admiration for the attempt outweighs my personal taste for specific storytelling techniques. I love movies that attempt to present something radically different from what we're used to, and that is what has happened here. Of course, most people will not enjoy the movie, and I get it. But if you are intrigued by the idea of a new Nic Cage movie, even if it doesn't trade in on his usual trademark craziness, then check it out.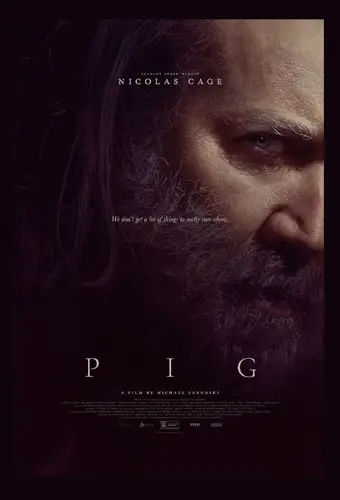 "…grounded as hell and never resorts to 1960s Batman theatrics..."