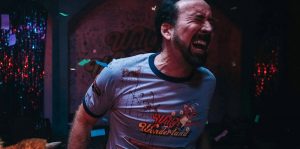 From director Kevin Lewis and producer/star Nicolas Cage, Willy's Wonderland is an exercise in action-horror stripped down to fundamental archetypes for speed and elegance.
An intense man (Nicolas Cage) driving a muscle car through a country town has all four tires destroyed by a spike strip left in the road. Since the town mechanic doesn't take credit, nor is there access to an ATM, the man is forced to cut a deal: a night of janitorial work for new tires. Of course, this is all a trick to trap the man inside Willy's Wonderland, a defunct kid's restaurant a la Chuck E. Cheese's.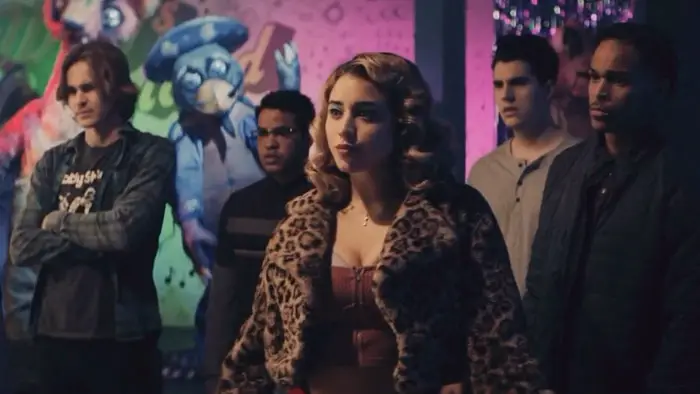 "The cornered janitor must fight waves of fake-fur-covered robotic killers…"
Like its live-action counterpart, the mascots of Willy's Wonderland are anthropomorphic animals in a band. Except in this one, the animatronic critters are alive and filled with demonic intent. The cornered janitor must fight waves of fake-fur-covered robotic killers to survive the night. The harbinger of an attack is the repetitive, shrill birthday song the mechanical band plays.
As with any great classic horror film, a gang of unruly, thrill-seeking teens arrives just in time to complicate the story. Their de facto leader is Liv (Emily Tosta). The kids initially set out to burn Willy's Wonderland to the ground on this fateful night, but when Liv discovers the janitor inside, she makes it her business to rescue him, whether he wants it or not.
Nic Cage becomes a verb in his unnamed driver/janitor character. He glares. He fights. He bleeds. He mops. With every attack, he puts on a clean, new Willy's Wonderland t-shirt, slams an energy drink, and starts cleaning all over again. When the chairs are smashed and scattered, he finds more chairs and goes about making the dining room clean and orderly. He seems like more of an automaton than the possessed mechanical nightmares attacking him. Cage redefines his familiar iconic madman character with his laconic janitor.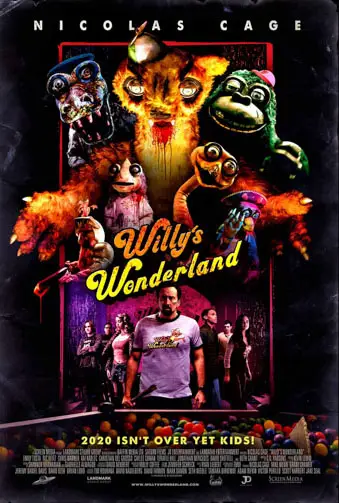 "…a violent, glorious, riot of inside-joke horror tropes and Cage's own best tribute to a genre he helped to create"