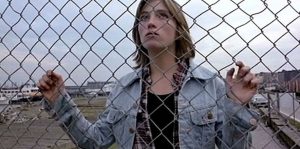 As Hopper was personifying social rebellion at this time, his instincts to mold the production around Manz's performance pays off immensely here. The actor/director employs the same style that worked so well in Easy Rider. Hopper came up with scenarios and allowed the actors to improvise each scene; though, admittedly, this technique worked less well with The Last Movie. This means that Manz is the true author of her performance. The results are thunderous. Due to Manz's work here, the film is filled with poignant moments of cinematic power that one usually only finds in European cinema.
Manz's rebellion is perfectly matched by Ferrell's performance, as she nails the desperation of Kathy while constantly falling apart on heroin. Hopper's performance is truly horrifying, as we have someone who is falling apart on drugs and alcohol playing someone falling apart on drugs and alcohol. Hopper was drunk throughout the picture, as he was reportedly urinating on the set floors frequently. Reportedly, he was also selling cocaine to the actors. Hard drug influence permeates the footage, especially the heartbreaking picnic sequence, which is one of the bleakest scenes in a movie ever. This is the wasteland that Manz fights and flees from, the perfect miserable background to rise above, even if it means burning out in the process.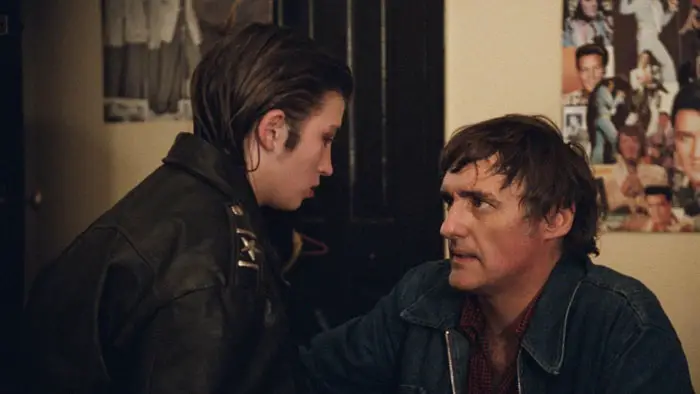 "…filled with poignant moments of cinematic power…"
Out of the Blue was released at the 1980 Cannes Film Festival as a film from no country because Hopper was not Canadian. It took three years to get released in the U.S., enough time for the movie's look to date horribly. The neo-futuristic look of the 80s was well set in by then, with the 70s elements washed away from the social aesthetic. Manz's Canadian tuxedo with Elvis stitched on the back of her jacket looks amazing, but in the mid-80s, it looked less Sex Pistols and more Nitty Gritty Dirt Band. I remember expecting something much more modern with the tagline on the box cover "She's 15 years old. The only adult she respects is Johnny Rotten."
Unlike James Dean, Manz didn't die young but got to live life as a wife and mother, briefly appearing in films for David Fincher and Harmony Korine in the 1990s. Sadly, she passed of cancer. Now, thanks to the help of celebrity fans Chloe Sevigny and Natasha Lyonne, there is a gorgeous 4k print of Out of the Blue being released. To those who grew up on the VHS, the upgraded picture quality is nothing short of remarkable. The original transfer was a gallery of shadows that looked like it was projected onto faded denim. Here we have the colors and images in clear focus, with details previously unseen standing out. This is my favorite movie of all time starring my favorite actress of all time. Linda Manz forever!
"…my favorite movie of all time starring my favorite actress of all time."