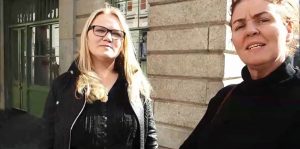 Alexander Cooper's WeirdLoop is Slacker meets The Groove Tube. The experimental feature was shot in one day on the streets of London around 2018. An ex-KGB Russian agent (Alexander Cooper) explores Soho with his colleague Alma (Joasia Tapson), looking for evidence of weird loops. Weird loops are reoccurring patterns in normal life that can erase hours from one's existence. People in the street are interviewed about their own experience with weird loops, each giving a different interpretation of the concept. Next, the agent and Alma examine shop signs for secret meanings, giving extra close attention to the plaza that houses the businesses Relax, Blow, and Pretty Ballerina. After further exploration, they get caught in weird loops while hunting weird loops, with reality connecting in unusual places and ripping apart in others.
As stated above, WeirdLoop fits in the long, proud tradition of experimental cinema, particularly midcentury American. It cannot be approached as a conventional picture as the point will be missed. Inconsistent sound levels from the equipment used and a lack of traditional plot drive keep this from being enjoyed on the popcorn spectrum. However, it isn't a movie to be appreciated conventionally, which is part of why it was released directly onto Youtube.
This is definitely one of the livelier works in the experimental arena, as it adds a playful cheekiness to the format. Imagine watching Warhol's Empire, which is hours and hours of the Empire State building sitting there, except with the sounds of everyone's farts inside added to the soundtrack. It is much easier to appreciate the forest for the trees when some of the trees have "This Forest is F****d" graffitied on them.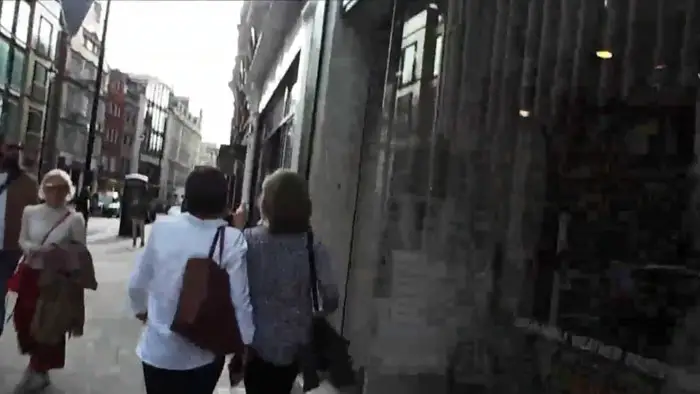 "…ex-KGB Russian agent explores Soho with his colleague…looking for evidence of weird loops."
WeirdLoop is also a refreshing throwback to the early 1970s when cinema was being reshaped by mind-expanding drugs. Ken Shapiro and John Waters described the movies they made from this time as made by people on pot to be watched by people on pot. This aura of weed also permeates the production. Hot boxing, the act of smoking cannabis in a car with the windows up, is mentioned as a possible window into weird looping. LSD is brought up several times, and at one point, Alma admits she is very stoned.
The weird loop idea is grounded in the tangents that erupt after medicating, with much of the movie exploring those asides that repeatedly arise. This method of using drugs to alter reality marries experimental cinema's mission to transform reality with film. By superimposing a comedy album Boris and Natasha-style Russian agent investigation over real public footage, writer/director Cooper recontextualizes the mundane by adding mystery and wonder to everyday life. Isn't that the core goal of both filmmaking as well as consciousness expansion?
WeirdLoop once again is an experimental work for audiences of challenging cinema. It defines and recreates weird loops, sometimes putting the audience in some during its over two-hour running time. However, this is a laugh riot best compared to Mothlight. It is a rewarding assault on reality that recalls when underground cinema was guided by fun with the correct mindset.
"…a refreshing throwback to the early 1970s when cinema was being reshaped by mind expanding drugs."