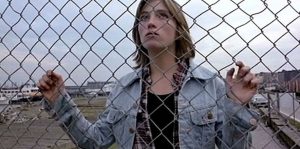 NOW AVAILABLE IN 4K! Like James Dean, Linda Manz appeared in many television shows before starring in three movies by famous directors. The actress was Generation X's Dean, and Dennis Hopper's Out of the Blue was her Rebel Without a Cause. Both embodied the spirit of cinematic youth rebellion wrapped in black leather. The 1980 drama started out as a weepy made-for-TV, got hi-jacked by an infamous dope fiend, and became a feral punk masterpiece.
One Halloween, Don (Dennis Hopper) drives his clown-costumed daughter, Cebe (Linda Manz), to school in his big rig. Drunk as s**t, he plows into a stalled-out school bus, killing lots of children. Flash forward five years, where a teenage Cebe lives with her mother Kathy (Sharon Ferrell), awaiting Don's release from prison. She hitchhikes around with a portable tape recorder playing Elvis and hangs out in her dad's broken semi at night, talking on the C.B. radio. Then, after seeing her mother shooting heroin, Cebe runs away to Vancouver.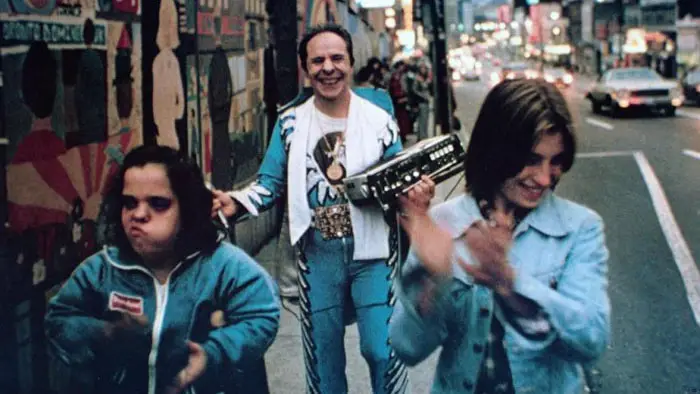 "…after seeing her mother shooting heroin, Cebe runs away…"
Kathy's court-appointed psychiatrist, Dr. Brean (Raymond Burr), is concerned but is assured that everything will be better when Don gets home from prison. Of course it will, until he gets home and starts running around with his old buddy Charlie (Don Gordon), Kathy's heroin dealer. It's a traditional Norman Rockwell family, just with needles and rape parties.
Eventually, the plot of Out of the Blue gets to the point where Cebe isn't going to take it anymore. And so on goes the leather studded jacket. When Manz gets dressed up like Elvis from Hell, with slicked-back hair and mascara sideburns, the iconography is undeniable. That this is channeled through a woman was and still is revolutionary, as there had been girl gang pictures but never a female teen rebel lead.
"…my favorite movie of all time starring my favorite actress of all time."