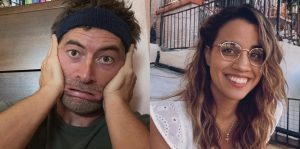 NEW TO THEATERS! As far as I'm concerned, Mark Duplass is a national treasure. So, it only makes sense that I was stoked to watch Language Lessons. Directed by and starring Natalie Morales, who wrote the screenplay alongside co-star Duplass, the film boasts star power and a somewhat novel style of filmmaking that has become de rigueur over the course of the pandemic. We all know it by now: it's shot via Zoom! The movie takes place in two different countries and centers on two very different people.
How did this particular odd couple come together? Spanish lessons. Costa Rica-based Carino (Natalie Morales) is a Spanish teacher who Oakland, California-based Will (DeSean Terry) bought 100 lessons from for his husband, Adam (Mark Duplass). The first lesson goes off without a hitch, so Carino is confused when their second lesson starts, and Adam is curled up in a ball on the bed. Will passed away the night before, and Adam chooses to confide in Carino. Through this tragic event, a friendship of sorts is forged. Adam starts to get more and more "back to normal," and as this occurs, Carino starts to face some heavy troubles of her own.
"…Carino is a Spanish teacher who…Will bought 100 lessons from for his husband…"
The important thing about the drama is that it shows how important it is to connect to other people, regardless of the means of communication or how far away they are. Friendships can be formed in the most unlikely circumstances, and this film certainly affirms that. I have to say that Morales and Duplass both give excellent performances, especially since their scene partner is behind a computer screen. However, it has become quite normal for most contact we have with those closest to us is through various screens on any number of electronic devices.
Language Lessons is a wonderful testament to our ability to bond with other humans, despite all obstacles that seek to leave us in isolation. It shows the best and worst of human vulnerabilities, which is very impressive for a motion picture that essentially only has two actors for over 90% of its run time. It's also very poignant for this new frontier of pandemic living. This is who we are now, and have been for a while, and maybe in some fashion, will be for a long time. This film shows us that it is okay. We can survive. We can even thrive, and certainly, we can get by with a little help from our friends.
The strongest thing about Language Lessons is the script, written by Morales and Duplass. I have to imagine that a lot of improvising occurred on-set, and in regards to that, I can say Natalie Morales and Mark Duplass make a great team. Their rapport is natural, and whatever processes they utilized to make that happen, the movie is all the better for them. It's a heartwarming film that deserves any and all praise it receives. I'm thrilled for audiences to see it and hope they enjoy it as much as I do.
Language Lessons screened at the 2021 SXSW Film Festival.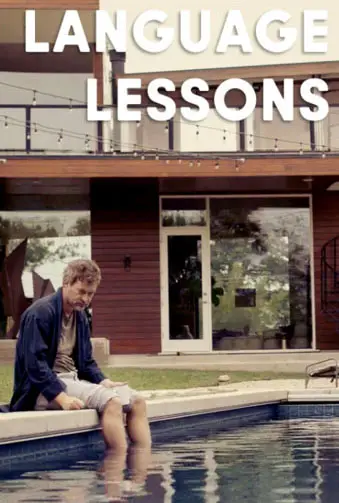 "…Natalie Morales and Mark Duplass make a great team. Their rapport is natural..."