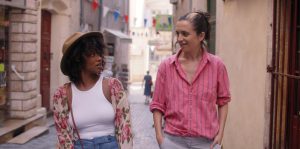 NEW TO THEATERS! Ma Belle, My Beauty takes place in southern France among vineyards, old stone homes, country roads, and idyllic town markets. Adding to the wanderlust of the scenery are the jazz talents of Bertie (Idella Johnson) and Fred (Lucien Guignard). Just married, a sexy Bertie and attractive Fred have moved from New Orleans where Bertie was a singer and Fred a musician.
Hoping to start a new tour, Fred is desperate to get Bertie on board to sing with his band. Unhappy and not afraid to share it, Bertie appears to be going through the motions while living on a vineyard with a leaky pool amidst happy, wine-drinking French men and women. So, Fred invites Bertie's former lover Lane (Hannah Pepper) to France as a surprise in hopes it will take Bertie out of her doldrums.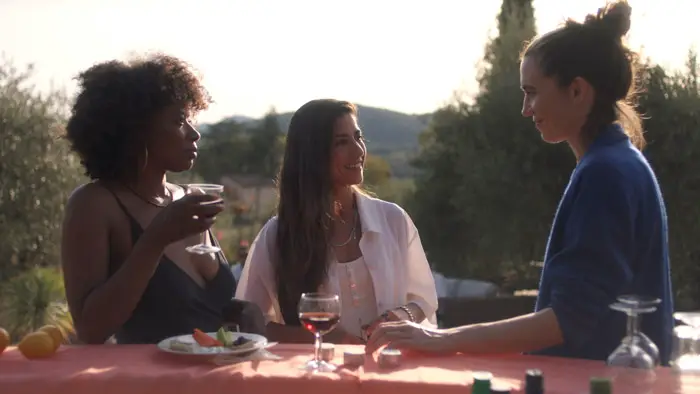 "…Fred invites Bertie's former lover Lane to France as a surprise…"
Lots of wine and French scenery continue to follow as Bertie and Lane, along with Fred, take time to reconnect. From dinners overflowing with reds and whites and daytime river trips to fabulous French countryside parties, we learn more about everyone's friendship, or should I say relationship there? As writer/ director Marion Hill invites us to learn more about these characters, we begin to understand what it is to be in a polyamorous relationship as well as what Bertie and Fred's previous life in New Orleans was like.
At a party, Lane meets Noa (Sivan Noam Shimon). She is an artist, a painter specifically, and represents another element of polyamory that bring Bertie's feelings and emotions to a head. Bertie belts out a tremendous song while sitting around the fire. Meanwhile, Lane invites Noa back to the house where, now, four people are a part of an interesting, loving, and passionate dynamic. Bertie is extremely open to her opinions as Noa and Lane begin to bond. She even expresses her need to be with a woman.
It is at this moment in the film where we indulge Hill in the premise of Ma Belle, My Beauty. Understanding and accepting how polyamory evolves is where communication, trust, and self-awareness are most important. The screenplay nails this by populating its world with characters you root for and care about. Their dialogue hangs heavy with emotional honesty while still sounding believable. The actors all share excellent chemistry, so their attraction to each other is never in question. You don't leave the film feeling there's a disconnect but more that everyone will reconvene in France sometime in the future with more wine and plenty of singing by the fire. After all, they are friends and lovers.
Ma Belle, My Beauty premiered at the 2021 Sundance Film Festival, the SXSW Film Festival, and the SFFILM Film Festival.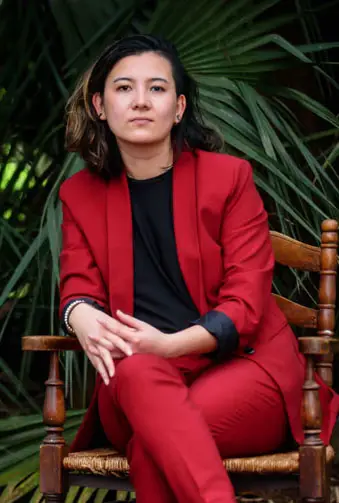 "…we begin to understand what it is to be in a polyamorous relationship..."