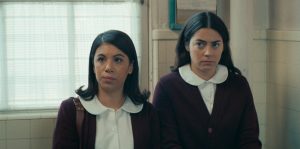 SXSW FILM FESTIVAL 2021 REVIEW! Written and directed by Lissette Feliciano, Women Is Losers is set in 1960s San Francisco and follows Celina (Lorenza Izzo), who has fallen victim to sexist stereotypes for too long. She attends Catholic school with her best friend, Marty (Chrissie Fit), listens to her parents' every order, and her life is essentially planned out like every other girl at that time in America. However, the idea that "women is losers" does not sit well with Celina, who does well in school and understands that she has a brighter future than others might believe. This is the story of the numerous obstacles she faces in her life's journey. 
The tone of Women Is Losers initially feels lighthearted and easygoing but quickly transitions to something far more serious. Viewers quickly relate to the characters on screen due to the comedic approach. After becoming attached to the characters and the story, that transition of tone reels audiences in even further. There is no way to escape the world in which Celina lives, and the truth is, no one wants to leave. Celina's story is so engrossing that viewers want nothing more than to be part of both her struggles and successes.
Comedy does play a role as a way to lighten the mood throughout the more intense scenes. More often, though, it's used to draw viewers into Celina's story and allow them to understand the severity of what is transpiring. Every time Celina (and others) speaks directly to the audience, viewers are pulled further and further into the protagonist's life. Their every word begins to resonate as they hold so much weight and are so important to the overall story.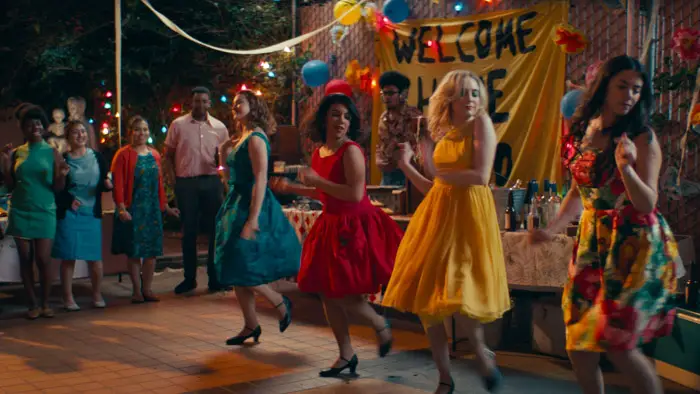 "…Celina…attends Catholic school…listens to her parents' every order, and her life is essentially planned out…"
As the characters and obstacles that Celina has faced throughout the film converge, viewers understand that the juice is worth the squeeze; however, it seems apparent that something is missing, something to truly conclude Women Is Losers and round out Celina's journey. But what is it?
Thanks to music director Frederik Weidmann, audiences quickly understand that music is the solution to this problem. Plato once said: "Music gives a soul to the universe, wings to the mind, flight to the imagination, and life to everything." This sentiment rings true in the closing moments as Snow Patrol's Open Your Eyes fills the scene, effectively wrapping up everything that has transpired, providing a sense of appreciation that would have otherwise been lost in this moment if it not for the music.
Women Is Losers is a collaborative effort that succeeds as a result of what every cast and crew member has to offer. The cinematography, music, acting, and every other job on set all play a pivotal role in the success of this coming of age drama. But the primary reason for the film's success is Izzo. Her demeanor throughout is that of nonchalance and extreme vigor, presenting viewers with a character full of juxtaposition and identifiable qualities.
From beginning to end, audiences are engaged in the story and in what each and every character has to say. Women Is Losers gives viewers a new perspective on America in the 1960s and the women who struggled to find success during that time. Thanks to subtle direction and an outstanding lead performance, this story will resonate with everyone who watches it.
Women Is Losers screened at the 2021 SXSW Film Festival.
"…will resonate with everyone who watches it."