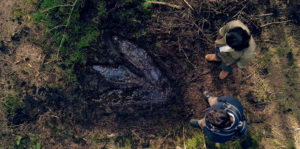 In the opening sequence of co-writer/director Dominic Ellis' intense feature, Jurassic Island, a mysterious chase scene ensues. It's a nice opener to reel audiences into this tale of wonder and survival. But these early promises of intrigue and creativity quickly die out as the film progresses. Particularly, character actions and script limitations hold it back from being unique and adding to the collective disaster and monster-movie histories.
Ava (Sarah T. Cohen) is a strong-willed explorer, daughter, and friend who's dealt with plenty of loss in her life. After learning that her father went missing on the same island that took her grandfather's life, fate and skill put her will for persistence to the test. Ava sets out to the island that was once a mythical lost world holding secrets of nature and beauty and has become a site for extinct animals, toxic leeches, and dinosaurs. She hopes to uncover the truth about her father's disappearance and current whereabouts. Joined by a group of scientists and friends, Ava arrives at Jurassic Island, where the fight for survival becomes her main priority.
Early in the feature, screenwriters Ellis and Tom Jolliffe introduce viewers to the supporting crew that accompanies Ava on her unforeseen damned adventure. Ava's boyfriend, Luke (Alistair Stoneman), does everything in his power to support her, even at his own expense. Her best friend, Cassie (Jamila Martin-Wingett), is a scientist in training with a curiosity so hindering that her common sense starts to fade. Lastly, there is Cassie's teacher and mentor, Tommy (Ray Whelan). A big part of me wonders about his accreditations.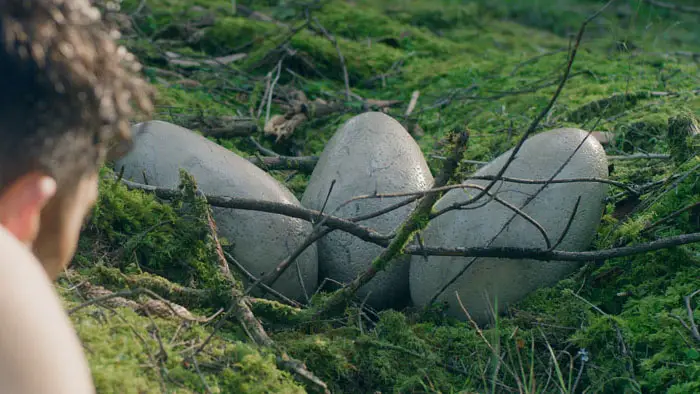 "Ava sets out to the island that was once a mythical lost world holding secrets of nature and beauty and has become a site for extinct animals, toxic leeches, and dinosaurs."
Collectively, this cast makes for an entertaining watch for their bizarre acting alone. But it's the stupidity of their characters that kept me glued to the screen, however unintentional. Jurassic Island taps into some classic monster-movie tropes regarding the protagonists' actions. There's an unlikely mini-villain, the sacrificial lamb, and a girl-boss dying to kick major butt since her first line. All these components are not necessarily novel, but everyone's actions lean so far into the extreme that it becomes quite amusing.
Ava, for example, who just learned that her father is trapped on the same island that claimed her grandfather, is oddly calm for someone whose life just turned upside down. Even after a family friend warns her that the island brings nothing but death, Ava invites her friends along for the ride without hesitation. And not once does she warn them of the potential danger. Whether this was the intent behind this rehashed script is a question that I don't need to be answered because the outcome is enjoyable, nonetheless.
There are several elements in this derivative screenplay that end up hurting the film, however. Instead of dual disaster components (the dinosaurs and the leeches), concentrating on one element like the leeches and their origin could have enhanced the story and increased its originality factor. The graphics of the dinosaurs aren't the best, either. Likely, this is a budget issue, which isn't that big of a deal to me. The editing could've also been improved. At times, scene transitions were a bit jarring and felt like moments of painful whiplash. These instances pop up only a few times, but they are certainly noticeable.
Riddled with a familiar story of survival and characters who never stop observing and asking important questions (even though most of them are scientists), Jurassic Island offers some unconventional yet decent entertainment. Plagued by too many ideas in one, the script often scrambles just as its characters for their survival. But I'd be lying if I didn't admit that I was entertained through it all.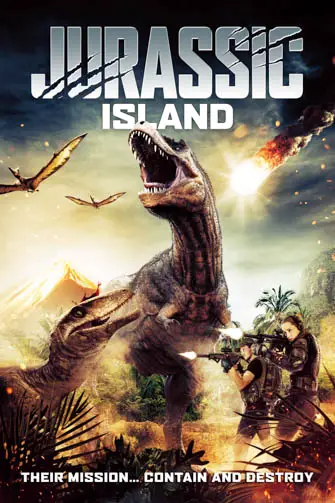 "…I was entertained through it all."