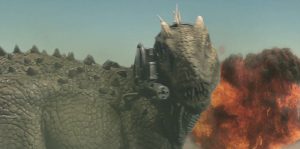 Armageddon Films' promotional description of Jurassic Thunder makes it sound like a standard low budget B movie: "When a covert desert base is forced to divert World War III against a formidable adversary, a group of commandos and weaponized dinosaurs are hired to get the job done." 
I'm here to tell you, oh my brothers and sisters, that paltry collection of soft words doesn't get close to doing justice to the stratospheric heights and depths of ridiculousness in this film. The madness is only beginning with the appearance of poorly animated Tyrannosaurus Rexes with frickin' machine guns strapped to their frickin' heads. The filmmakers have no f***ks to give as they roll in to take on zombies caused by a pathogen rampaging in Africa.  
Directors Milko Davis and Thomas Martwick serve up a cheapie blend of Aliens, Independence Day, Outbreak, andThe Walking Dead, to name just a few influences. They gleefully plow through the worst plot and dialog imaginable accompanied by even dodgier special effects.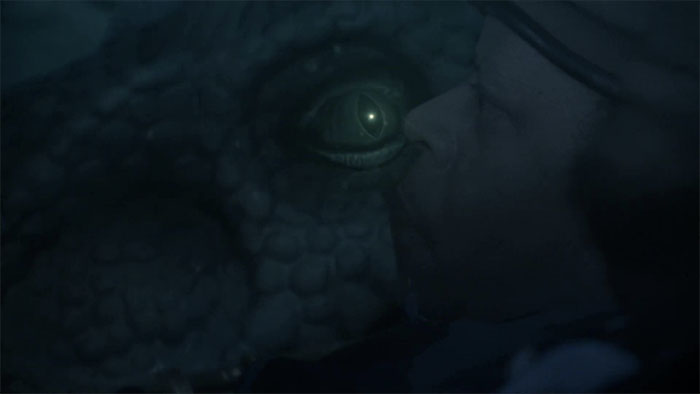 "…Tyrannosaurus Rexes with frickin' machine guns strapped to their frickin' heads…roll in to take on zombies…"
It's all a riot, but the best part is the holographic presence of a certain clueless orange-hued US President, certainly not meant to remind us of anyone in particular.
The film opens in a comic book store where two young women are gobsmacked by a promo display of a soldier from the Jurassic Thunder comic. The young ladies are unimpressed with the asexual (incel?) store manager, who proceeds to school them (and us) by reading the comics aloud. It's not enough that we get a story about a war in which heavily armed dinosaurs are the weapon of choice, but that narrative is framed as a story within a story being read to us by a nerd in a comic book store. This retelling becomes the film. The framing device more or less dissolves in the firehose of chaos that ensues, but it is a fun start. This picture is the gift that can't stop giving. 
The actors are not so much performing as they are mugging for the camera until the dinos show up. Once they are airdropped to the location, the fun is all in watching them go to town on the zombies and anyone else they see! There's also an appearance by a character who can only be described as a live-action Natasha Fatale. 
If, after seeing this magnum opus, you decide you're a raving fan (and you should), then Armageddon is there for you, sporting a full line of merch for Jurassic Thunder, called, of course, "Thunderwear." There's no mention of it in the film, but one supposes the title is a mashup of Jurassic Park and Tropic Thunder. Makers of both of those films should be honored.  
Some movies are so bad they're good. This movie is so bad, it's great! Jurassic Thunder would get an "8" rating just for audacity, but it delivers so much more. At the end of the day, who doesn't want to see a low-budget movie starring dinosaurs with guns strapped to their heads? Ooh rah. Get some.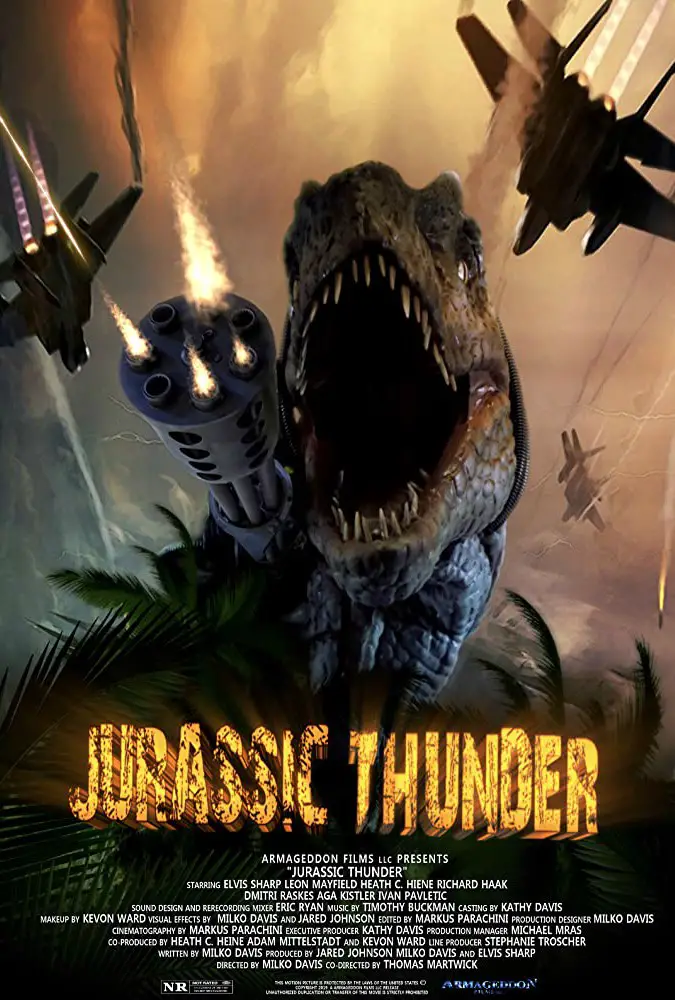 "…Some movies are so bad they're good. This movie is so bad it's great!"