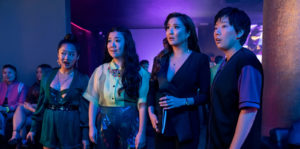 NOW IN THEATERS! After watching the trailer for Joy Ride, I didn't have much hope for it other than the fact that Adele Lim (Crazy Rich Asians) is the director and Cherry Chevapravatdumrong and Teresa Hsiao are the writers. After watching it, this is one of the best comedies to come out this year… no thanks to the trailer.
Joy Ride is about two childhood best friends, Audrey (Ashley Park) and Lolo (Sherry Cola). The two were the only Asians (Chinese specifically) in an all-white midwestern community. Audrey was adopted by her white parents, and Lolo's family immigrated to the United States. Audrey is the more reserved of the two, while Lolo is the bulldog, willing to get into it with anyone that crosses their paths.
Now adults, Lolo is a poor artist who fancies dildos and sex toys in her art, and Audrey is a successful lawyer. Audrey needs Lolo to accompany her to China and close a deal with businessman Chao (Ronny Chieng) and act as Audrey's translator. Everything goes well, except Chao doesn't respect Audrey because she doesn't know her mother and gives Audrey until the end of the week to find her biological mother to attend Chao's business party.
As the title implies, Joy Ride becomes a road film. Joining the pair is Audrey's cousin, Deadeye (Sabrina Wu), who is a K-Pop geek, and Audrey's college roommate (and best friend), Kat (Stephane Hsu), who is a famous actress in China. The four hop on a train to find Audrey's mother, and their journey goes off the rails when they hook up with an American, Jess (Meredith Hagner), whom everyone but Audrey knows is a drug dealer. After a mishap with some cocaine, the four are thrown off the train in the middle of nowhere to fend for themselves.
"…gives Audrey until the end of the week to find her biological mother to attend Chao's business party."
I'll be honest, this film is billed as a raunchy female comedy, and to this point, I've never seen a good female-driven raunchy comedy. My complaint is that none of the so-called "raunchy" films ever went far enough, usually playing it safe. Interestingly, this goes way too far and is not safe. The stereotypical "sex montage" in the middle of the film is fresh, unique, and downright sexy. And even though it is sans nudity, it's hilarious.
The source of the "raunchiness" comes in the sex-obsessed characters of Lolo and Kat. Lolo says whatever "filth" comes to mind, while the "virginal" Kat, who is not a virgin, is the perfect counterpoint. In fact, the character is a sex-starved celebrity who is really starving. The raunchiness works because Adele Lim paces the humor perfectly in both timing and frequency. The film is packed with jokes but never feels overwhelming. It's also filled with jokes that work and are appropriate for the character(s) involved.
Joy Ride can't all be fun and games. It needs a narrative with heart to resonate after the credits roll. Successfully doing this sets the film apart from the teen sex comedies of my youth. There's real heart here. Aside from the tear-jerking story of Audrey's biological mother, the story is essentially about the career-focused Audrey putting her work and ambitions over her friends, especially Lolo. Now add the subplots of Deadeye trying to find acceptance among her new friends and Kat trying to save her engagement with her very conservative fiance, and there's depth to all the characters.
Joy Ride breaks through all the preconceived notions of female-led sex comedy. More impressively, it does this with an all-Asian cast. Director Adele Lim has brought back, for a brief moment of time, the over-the-top sex comedy and delivers.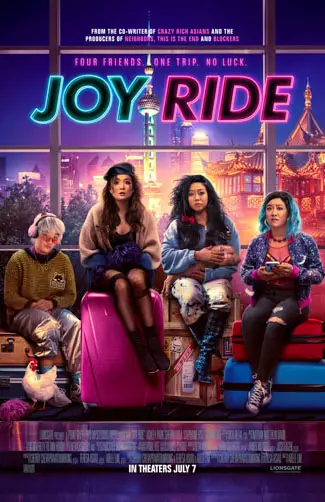 "…goes way too far and is not safe."