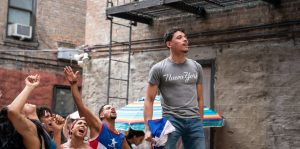 There's really no point in trying to defend my less-than-positive review of Jon M. Chu's In The Heights as being internet click-bait. Look, I just didn't like it. I love Crazy, Rich Asians! I adore Hamilton! I even loved the infamous train wreck, known as Cats! But, unfortunately, I did not love this.
In The Heights opens with young entrepreneur Usnavi (Anthony Ramos) outside his beachfront store in the Dominican Republic, telling stories to the local children about his life running a bodega in the Manhattan neighborhood Washington Heights. Usnavi's time "in the Heights" is what allowed Usnavi to follow his "sueñito" (dream) and save enough money to purchase the bar once owned by his father in the Dominican Republic.
Everyone in Washington Heights is like family to Usnavi, both literally and figuratively. Usnavi manages the bodega with his cousin, Sonny (Gregory Diaz IV). The owner of the bodega, Claudia (Olga Merediz), is the "Abuela" of the neighborhood. Usnavi also has a significant crush on hairstylist and emerging fashion designer Vanessa (Melissa Barrera).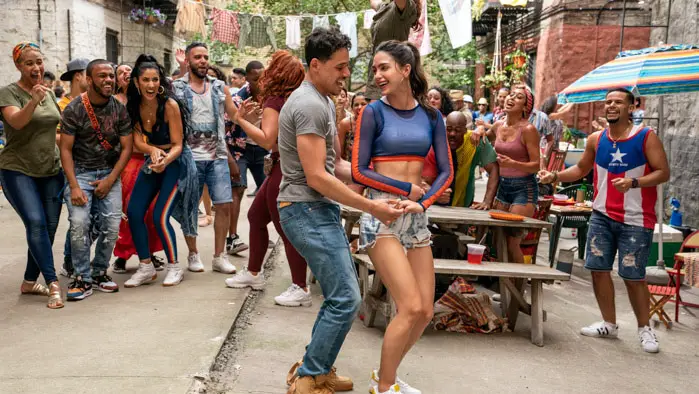 "…[Usnavi's] life running a bodega in the Manhattan neighborhood Washington Heights…"
His best friend is Benny (Corey Hawkins), the ex-boyfriend of Nina (Leslie Grace), who is the daughter of his boss, Kevin (Jimmy Smits). Nina and Benny broke up when Nina went away to Stanford for college and has just returned, dropping out because she found no "home" in California.
In The Heights is about dreams. Every character has a dream they're chasing, but all come up against an obstacle of some form. Vanessa wants to be a designer, but she can't pass the background check for a New York apartment even though she has enough cash for a deposit and a steady job. Kevin dreams of Nina graduating from college and is willing to sell his business to do it. Benny dreams of being with Nina. Local salon owner Daniela (Daphne Rubin-Vega) dreams of moving to a better location in New York City. Everyone has dreams and has either lost them or been prevented from achieving them.
I wanted to like the film. On paper, it should have worked, and I'm not going to go through my creds, but I love musicals, and this one didn't work… as a musical. So I'll start with my most petty complaint. I've never been to New York City. Like most of the United States, I don't claim to know, understand, or relate to the very distinct New York cultural feel of the story. This could morph into a discussion of New York elitism in Broadway musicals, but I won't bite.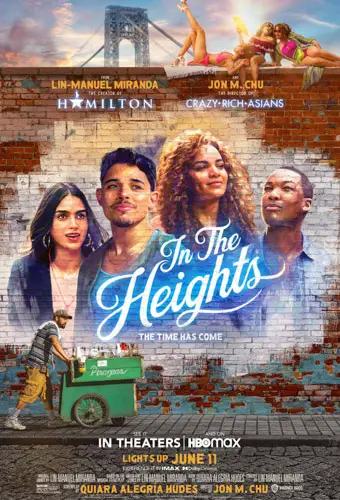 "…my issue is with the source material, specifically the songs."