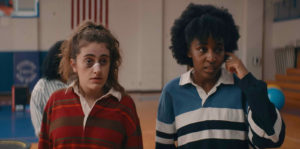 NOW IN THEATERS! It's a fantastic year for woman-led and directed comedy. First, Joy Ride and now Emma Seligman's raunchy comedy, Bottoms, comes to theaters. The plot says it all. Two lesbian teens start a fight club hoping to bang cheerleaders.
Bottoms stars Rachel Sennott and Ayo Edebiri as P.J. and Josie, two teen lesbians hoping to hook up with their crushes…cheerleaders Brittney and Isabel, respectively. Because P.J. and Josie are nerds, the jocks and cheerleaders ignore them and ruthlessly haze them.
In an elaborate ruse (which is best seen and not written about), P.J. and Josie start a self-defense/fight club in hopes of luring in their crushes and spending quality time with them. The problem is only girls who rank no higher than a "6" join the club, so extraordinary lengths must be taken.
I just have to say I had so much fun watching Bottoms. Growing up in the 80s, I was a big fan of the teen sex comedies. These movies are no longer allowed to be made…at least by Big Hollywood. Bottoms is the next best thing by making the sex comedy from the female…lesbian perspective.
This shouldn't work, right? Surely, woke comedy isn't funny. And you're right, woke comedy isn't funny…this movie ain't woke by any stretch of the imagination. Everything that can and will offend you is in this movie and treated as normal…casual normal. It hits on race, sexuality, jocks and nerds, and then gets really, really violent, delving into not just punching one another but poking at school violence…you know what I'm referring to.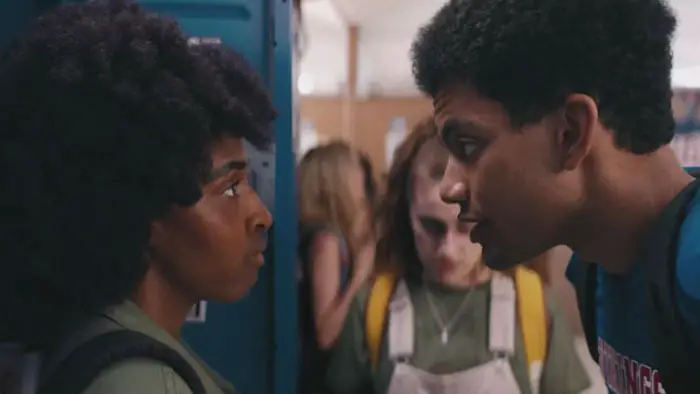 "Two lesbian teens start a fight club hoping to bang cheerleaders."
I'll give you one example. Marshawn Lynch plays Mr. G, one of the teachers and reluctant sponsor of the fight club. When P.J. and Josie initially approach him about sponsoring the club, Mr. G is reading a porn magazine (I believe the title mentions the words "Happy" and "Booty") and is getting over his divorce, which has sour his opinion about women (I'm being really tame here). Here, Mr. G is seen as a beloved, yet barely respectable, teacher. No judgment. That's just his character. In fact, all characters play to some offensive stereotype, and the film leans into these stereotypes without judgment. It's wrong…all wrong…and I love it.
Rachel Sennott and Ayo Edebiri are at the center of most of the film, and they are fantastic as P.J. and Josie. The story is about the two wanting to get laid by their crushes. Rachel is the outgoing, aggressive one, and P.J. is the soft-spoken, nervous one who finds her "courage" in P.J.
Like a good teen sex comedy, the pair has to lie to start the fight club and continue that lie to get the cheerleaders. Emma Seligman and Rachel Sennott's script masterfully keeps Bottoms constantly walking that line between a grounded reality of Gen-Z adolescence and an over-the-top comedy wacky comedy. Moving too far one way or the other would have spelled certain doom.
The reality comes in how the story plays out. There are stakes for P.J. and Josie in getting what they want, and ultimately, there are consequences to every decision every character makes…like getting involved in a fight club.
Bottoms falls right in my wheelhouse of comedy. Be offensive and don't care about offending anyone. Bottoms goes after everyone without apology. It's what comedy used to be; we've strayed so far off the path in the last ten years. There's no place to play it safe in comedy. We need to return to this form of comedy oh so badly.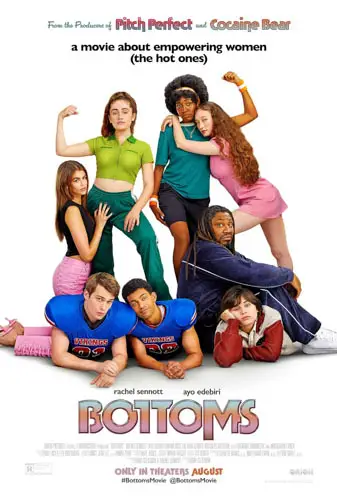 "…falls right in my wheelhouse of comedy. Be offensive and don't care about offending anyone."