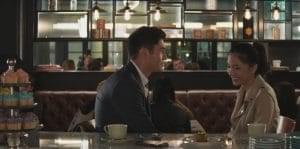 Ideally, a single movie should stand on its own. Ideally, the social importance of a film should not influence whether that film is good or bad. Otherwise, it becomes political criticism as opposed to art. It's certainly not unheard of for film critics to give higher (or lower) scores to film for factors not associated with the final products. As to not belabor the point, there's an article about the social importance of Crazy Rich Asians so that this review can focus solely on the film as art.
So, I, an Asian-American, has been tasked with reviewing Crazy Rich Asians. I understand and fully embrace how important this film is. It's been twenty-five years since a film produced by a major studio and a dominantly Asian-American cast and crew has hit theaters. That last film being Joy Luck Club. It is certainly my hope and the hope of my race that Crazy Rich Asians succeeds in the box office and thereby opening the door for the big studios to take Asian-American filmmakers seriously.
Honestly, I should just end the review here and tell you that as non-Asians, you should support your fellow people of color, spend your money, and watch Crazy Rich Asians sight unseen. Check your privilege…blah, blah, blah. I take my credibility seriously in that you're trusting me to give a fair criticism of a film to help you better spend your movie dollars. I can not guilt you into seeing Crazy Rich Asians knowing that it's a bad film. Luckily for my people and me, it's really good.
Based on Keven Kwan's novel of the same name, Crazy Rich Asians is a romantic comedy about an NYU economics professor, Rachel Chu (Constance Wu) who accompanies her serious boyfriend, Nick Young (Henry Golding) to his home in Singapore for his best friend's wedding and more importantly to introduce Rachel to his crazy rich family.
"…Rachel accompanies her serious boyfriend to Singapore for his best friend's wedding and introduces her to his crazy rich family."
Unbeknownst to Rachel, Nick is the heir of the wealthiest family in Singapore. The secret is a test in a way for Rachel and Nick so prove their love is for love sake. From here the plot is pretty straightforward, Rachel slowly discovers Nick's true identity through comedic revelations. Like Cinderella, Rachel's presence causes social upheaval and jealousy amongst the elite. And then there's Nick's mother, Eleanor (Michelle Yeoh), who is not happy with her son's affections for a common girl, not only because she's poor, but she's also American.
There's a moment when Crazy Rich Asians feels like an Introduction to Asians 101 course. It feels like a presentation to American audiences about diversity within the Asian community. It's not a problem for the film, but for me, it's like me in every class in high school…I know this stuff already. Anyways, every Asian is on display…the good, bad, and the ugly. Mother Eleanor is the dragon lady surrounded by her Bible study crew. Rachel and her mother Kerry (Kheng Hua Tan) are the poor immigrants working their way to the middle class.
As the title implies, the story follows primarily the rich and the filthy rich. The film's breadth of characters cope with their prosperities in different ways and most of the wealthy live unhappy lives within their unhappy families. The way it's played out on screen is a universal story of humanity. In other words, a familiar story told with an Asian filter. Will Nick choose love over family? Will Rachel sacrifice love over what's best for Nick?
Director Jon M. Chu tells a big story with a big cast. Practically every Asian actor actively working today is in this film, except Jon Cho and Randall Park. The cast splits between the comedic actors and the dramatic actors. On the comedic side is Awkwafina as Goh Peik Lin playing the hip streetwise counter-part to Rachel and serves as her guide in the world of the rich. Ken Jeong does his thing as the Peik's father, Wye Mun. Short of being nude, Jeong has his usual character nailed down and delivered a funny performance. Nico Santos is adorable as Rachel's secret ally and stylist Oliver.
"Director Jon M. Chu tells a big story with a big cast."
One the dramatic side, Michelle Yeoh as Eleanor is the anchor of the overseas cast. While she can be viewed as the villain, her performance stays grounded as the wife who gave up her dreams for the sake of her family. Gemma Chan plays the beautiful fashion icon, Astrid Leong, who finds common ground with Rachel as her husband is a "commoner." Chan's Astrid as well as others are involved in a few small subplots that play out through the course of the filmmaking this an Asian Love Boat.
As far as the romance goes, writers Peter Chiarelli and Adele Lim never allow the main story of Nick and Rachel to get away from them. It is solidly their story. Constance Wu is charming, vulnerable and cunning as Rachel, her final move against Eleanor pays off beautifully. Henry Golding's Nick is the shirtless knight who fights for Rachel as the risk of losing it all.
I mentioned this before, but there are times when the film feels like it's trying to appeal to non-Asian audiences. Leading men Henry Golding and Chris Pang as Nick's best friend Colin spend ample time with their shirts off. The film's soundtrack is reminiscent of an Ocean's film, consisting mainly of Asian covers of American big band tunes. Ironically, the final song of the film is a cover of Coldplay's "Yellow." Not sure who let that one slip. In retrospect, I have no reason to complain. The American stuff I just complained about serves as a reminder of the cool things I've appropriated into my life.
Crazy Rich Asians is a wonderful romantic comedy succeeding both romantic and comedy elements. Solid story, solid cast, amazing sets, and backdrop, and yes, it features an amazing cast of Asian and Asian-American actors. It's an excellent representation of my culture and my journey. The only excuse you have not to see Crazy Rich Asians is because you hate love.
Crazy Rich Asians (2018) Directed by Jon M. Chu. Written by Peter Chiarelli, Adele Lim based on Keven Kwan's novel. Starring Constance Wu, Henry Golding, Michelle Yeoh, Gemma Chan, Awkwafina, Ken Jeong, Chris Pang, Nico Santos.
8 out of 10