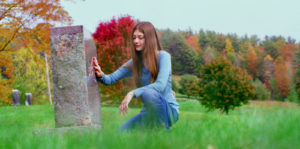 Directed by Shawn Welling and based on the book of the same name by Don Miller, If I Could Ride is a low-budget, family-friendly equestrian drama. The story charts the internal and external struggles of two teenagers who couldn't be any more different. Yet, it seems fate is forcing their paths to intersect at every turn.
Jodie Davis (Alexis Arnold), a 12-year-old born with a curvature of the spine, lives with her mom Sandy (Rhyleigh Russell), and Grandpa Bill (Jeff Kavy) on a cozy farm. Despite her physical disability, Jodie has a real zest for life and remains optimistic that one day she'll be able to ride a horse. In comparison, 17-year-old Bridgette Van Heusen (Eva Igo) lives on a gorgeous estate with her austere parents, Victoria (Ursula Boutwell) and Stephen (Michael Coppola). She competes in horse shows and frequently comes out on top, thanks in part to Barkley, her trusty horse, and Jimmy (Tom Vera), her trainer.
The first hour of If I Could Ride switches between Jodie and Bridgette as they confront various obstacles. Jodie is presented with a surgery that will improve her mobility, but only if she puts in the work in physical therapy. Bridgette feels pressured by her parents to keep the family legacy alive. Both deal with a lot, and all credit goes to the young actors pouring their hearts into their roles. With the optimism entrenched in Jodie as a character, Arnold is almost always smiling and radiating a very calm, euphoric aura. In contrast, Bridgette is not as optimistic and is dead set on living up to her parents' expectations, so Igo assumes sterner traits and tendencies.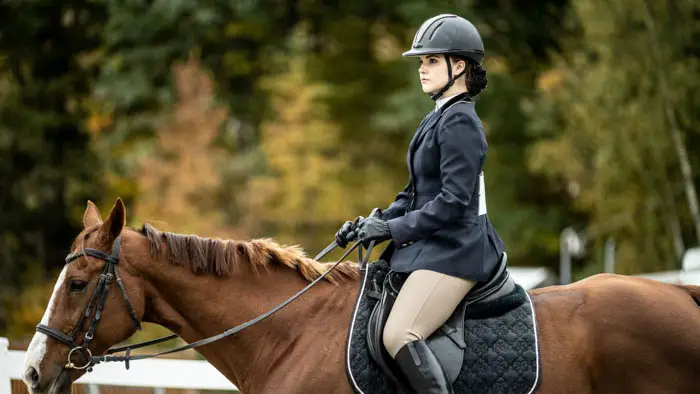 "…Jodie has a real zest for life and remains optimistic that one day she'll be able to ride a horse."
However, the frequent cutting between Jodie and Bridgette, while done smoothly and deliberately to show the juxtaposition of their lives, does hamper the pacing. There's so much story crammed into a two-hour-plus runtime that the filmmaker does develop a habit of taking on too much conflict. This, in turn, lessens viewer engagement as the material is not too substantial. But the second hour improves after Bridgette suffers a devastating fall from a horse. Jodie and Bridgette run into each other a few times throughout, but it isn't until they are in physical therapy together that they begin to forge a friendship. Arnold and Igo have fun with their clashing dispositions, thus elevating the pair's friendship.
As far as the adult characters of If I Could Ride go, they are hit-or-miss. Victoria is highly critical of Bridgette and her horse-riding abilities, which isn't good for her self-esteem. While Igo is more than capable of depicting this dwindling self-esteem, Victoria's perpetual disdain comes off as mannered. Jimmy acts as the parental figure Bridgette wishes she had. He's working through the trauma and grief of having lost a child, and coupled with Vera's strong performance, Jimmy works as a character and has great chemistry with Bridgette.
Welling finds a suitably leafy environment in Vermont. The director takes a few risks, some of which pay off, while some don't. The opening sequence of Jimmy and Bridgette in a car is compellingly kinetic, compiled of low, oblique angles and overhead framing. The camera, positioned at ground level, observes as the two pull up to a horse stable, followed by a forward handheld camera motion. Suffice to say this sequence benefits from a dynamic style. But other times, the abruptness of a close-up or scene transition takes one out.
Knowing the destination of If I Could Ride doesn't take away from the enjoyment of watching the young protagonists become their best selves, not to mention the horses and scenery are a plus! Even when tackling grief, loss, and strained parental relationships, Welling's approach to such subjects is appropriately accessible. The film is an inspiring and satisfying tale of friendship, courage, and horses, and will keep the whole family entertained.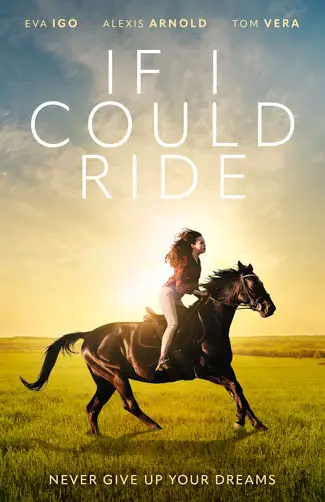 "…an inspiring and satisfying tale..."