Here is your chance to get hip to the cowgirl movie craze with director Brad Keller's excellent Heart of a Champion. The drama, written by Lisa Chapman, is about Charlie (YaYa Gosselin), a bright young student dealing with her parent's divorce by self-medicating with daydreams. She keeps getting busted for daydreaming about horses in the class, so Principal Goodwin (Judi Stiner Gray) calls in Charlie's mom Beth (Jojo Marie), for a meeting before things get completely out of control.
Beth and Charlie are both stubborn as mules and butt heads in the car on the way to drop off Charlie and brother Mikey (Major Dodge Jr.) with their struggling father, Troy (Edward Furlong). Dad takes the kids to a barbecue at the ranch his buddy Clint (Casper Van Dien) owns. After the possibly alcoholic Troy has started in on the beer, Charlie asks if she has permission to buy a horse if she can find one and pay for it herself. Her father consults his beer bottle and says sure, never believing the little girl will ever afford a horse.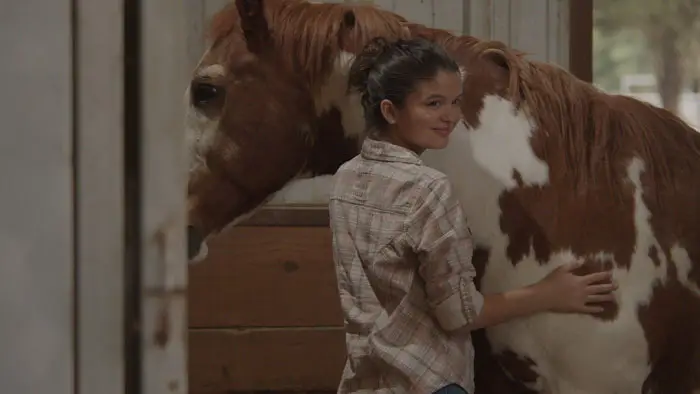 "…Charlie informs Madison she'll enter the rodeo and beat her just for fun."
Charlie busts open her piggy bank and goes horse shopping with Clint and $300 in loose change. After a day of offer rejections, they find a horse caught in barbed wire on the side of the road. The animal is branded but has obviously run away, so they get him free, naming him Chango. Beth is not pleased and makes posters for the lost horse to hang up all over town. She expresses concerns to Clint that Charlie's heart will be obliterated when the owner claims the horse.
Then Heat of a Champion introduces us to Zach (Carson Cunningham). This cute boy at Charlie's school lets her know about a Junior Rodeo coming up. She decides to enter Chango in the barrel-riding competition. However, the current champion barrel racer is stuck-up rich girl Madison (Morgan Harrington), of the powerful Farnsworth family. Madison lets Charlie know she doesn't have a chance in h-e-double toothpicks of beating her. That's when cowgirl Charlie informs Madison she'll enter the rodeo and beat her just for fun.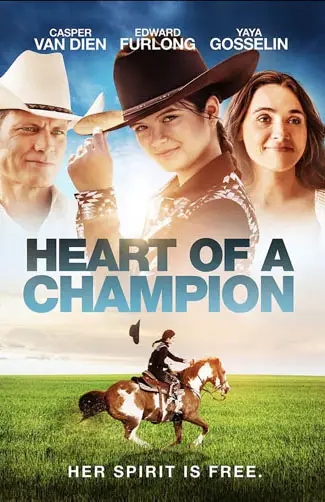 "…horseback-ridin' heroines resemble the maverick spirit of independent filmmakers..."