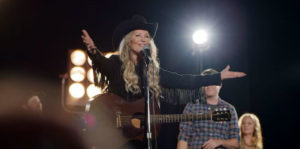 A cowgirl needs to grab her guitar to get her daddy out of jail in Timothy Armstrong's plucky A Cowgirl's Song. Hailey (Savannah Lee May) sees her young cowgirl days of sitting in meadows writing songs and sketching horses brought to a screeching halt. Her daddy, Dean (Jason Alan Smith), has been thrown in jail for a crime he was too pig-ignorant to realize he was committing. And daggum it, her mamma, Candace (Rachel Cannon), has too many night shifts this week to take Hailey and Brooke (Darci Lynne Farmer), her sister, on the 40-mile trip to see him.
But a cowgirl is nothing if not spunky, so Hailey loads Brooke, a former barrel racer who hasn't walked right since an accident, into the old buckboard to take the backroads of Chickasha, Oklahoma, to the county jail. Unfortunately, they get lost and have to camp outside. In order to help chase away Brooke's case of the mopes, Hailey plays a song around the campfire about living on the sunny side of existence. They awaken to a snake attack, but it's thwarted by hunky young cowboy Marcos (Jared Trevino). He helps the girls find the jail as his dad (Ricky Catter) is the sheriff.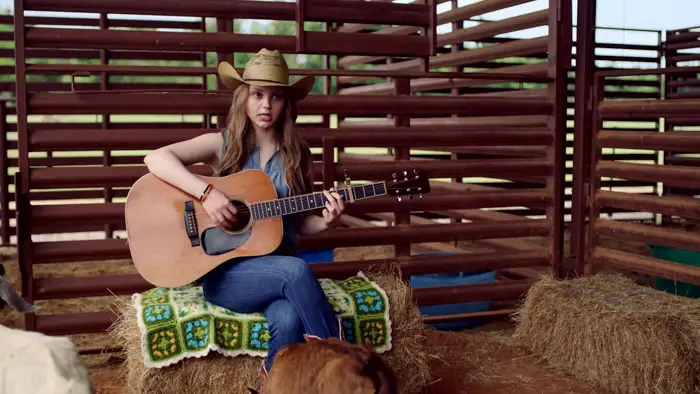 "Can Rufus and Maddie help Hailey get over the jitters enough to find the cowgirl song in her heart?"
After visiting Dean, Hailey and Brooke stay with grandmother Erin (Cheryl Ladd) for the summer as she lives close to the jail. Erin used to be a country superstar but left the limelight after an accident claimed her husband. While the girls try to figure out how to raise daddy's bail, Hailey's songwriting efforts attract the attention of Rufus (Dodge Prince), who dreams of being a big talent manager. However, when Hailey tries to play in public, she freezes. Her new friend Maddie (Maggie McClure) has lots of advice, as she was a singer until she was diagnosed with Lupus. Can Rufus and Maddie help Hailey get over the jitters enough to find the cowgirl song in her heart?
Hats off to writer-director Armstrong for championing the singing cowgirl movie, a sub-genre that started in 1939 with the Dorothy Page musical westerns. Feisty little she-ponies singing their hearts out never goes out of style, as evident by the definitive example of such, Gus Van Sant's Even Cowgirls Get the Blues. A Cowgirl's Song delivers the musical goods in spades, with songs by McClure and her band, The Imaginaries. May can sing like a mother, and I was surprised to see she is an actress who sings as opposed to a musician trying to break into acting.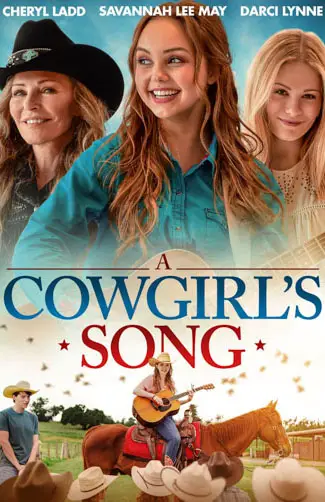 "…will put you under their rawhide spell."