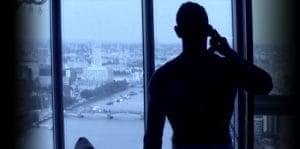 Stop me if you've heard this one before – a person is in the wrong time at the wrong place and killed for what they discovered. Now, a well-trained, single-minded person comes to town to root out the folks responsible. Mayhem, destruction, and death ensue as this individual exacts revenge.
Such a well-worn story can be applied to thousands of movies; Taken (murder replaced with kidnapping) or the recent Lou Ferrigno starring Instant Death, are just two examples of movies with similar plots to that described above. However, a film can distinguish itself with its specific take on the material. For the UK set, I Am Vengeance those specifics are found in its decent sense of humor and a focus on small-town drug use giving the intense plot an added dash of realism.
British Special Forces officer John Gold (Stu Bennett) learns of his best friend's death and arrives in the small town the friend called home. Before John can start doing what he came for, which is crack open the skulls of those responsible, he must discover whom those individuals happen to be. After local law enforcement proves to be utterly useless, John enlists the help of well-meaning but strung out Sandra (Anna Shaffer) and Rose (Sapphire Elia), a sweet restaurant owner who wishes to clean up her town. John and Rose have instant chemistry, but things are complicated not just by John's mission, but also by Rose's younger sister.
John can connect the dots, through Sandra's dealer, to an old army battalion who smuggled a massive amount of drugs out of Iraq. Once back, the comrades, led by Hatcher (Gary Daniels), settled in a small town to get the basics of drug-pushing down. However, John's army buddy was going to rat them out, and now John is going to hunt every last one of them down.
"Bennett's transformation…from a credible tough guy to lighthearted teasing is a joy…"
Writer-director Ross Boyask's film is full of charm, starting with Bennett's rather wonderful performance. Bennett is a former WWE wrestler, performing under the name Wade Barrett, and has a few acting credits under that name as well; most notably the Scott Adkins action film Eliminators. I enjoyed that film, but Bennett's performance as the dedicated, no-nonsense John Gold is on another level entirely. While it is not yet quite up with best wrestlers turned actors, such as Dwayne Johnson or Dave Bautista, he is far more charismatic than the likes of the dull John Cena or the perpetual awkward flailing of Kevin Nash.