The reputation of Disney films based on rides is a mixed bag. On the one hand, you have the heights of Pirates of the Caribbean: Curse of the Black Pearl. The other hand features the lows of 2003's The Haunted Mansion. Director Justin Simien and writer Katie Dippold aim to capture the magic and macabre of the "happy haunts" found in Disney Parks across the globe with Haunted Mansion (dropping the "The"). Armed with a star-studded ensemble, Simien gives plenty of nods to the ride, but are ride references and a strong cast enough to carry the movie closer to the success of POTC than the woes of Tomorrowland?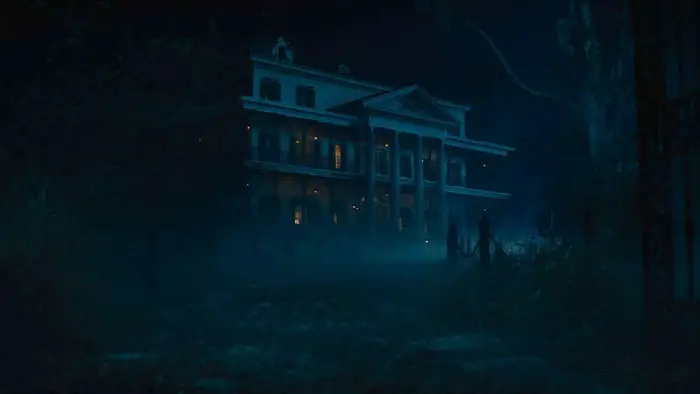 "…must attempt to banish the hateful hatbox ghost before all hell breaks loose…"
Ben Matthias (LaKeith Stanfield) is a widowed former astrophysicist, now giving historical tours in the most haunted city in America, New Orleans. Driven by the grief of his late wife, each day feels more pointless than the last until Father Kent (Owen Wilson) enlists Ben's help to photograph the ghosts supposedly haunting a nearby mansion. The mansion is home to Gabbie (Rosario Dawson) and her son Travis (Chase Dillion), who have found themselves trapped by the spirits within the ghoulish hallways of their new home. A total skeptic, Ben sees his new ghost photography gig as nothing more than an easy way to make money. Easy, unless a hitchhiking ghost follows you home.
Haunted Mansion then thrusts into overdrive, assembling "the dream team." Enter Tiffany Haddish as the clairvoyant Harriet and ghost expert Bruce (Danny DeVito), each seeking to find answers hidden in the "regions beyond." The team summons the infamous medium Madame Leota (Jamie Lee Curtis) to find a way to put the troubled spirits at ease. Despite their "sympathetic vibrations," the group is tormented by a powerful specter holding his head in a hatbox (Jared Leto). After some guidance from Leota and a run-in with an axe-wielding bride, our cast must attempt to banish the hateful hatbox ghost before all hell breaks loose (literally).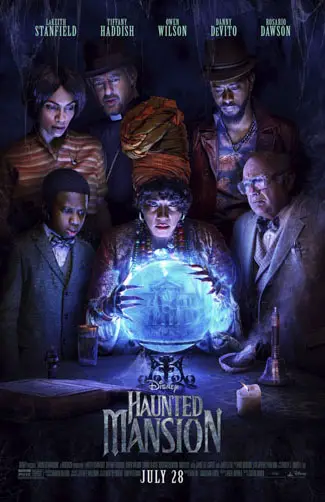 "…callbacks, Easter eggs, and references to the attraction overflow..."