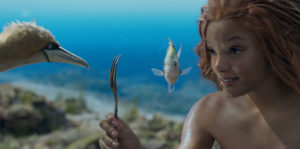 Why watch a movie when you know there's a better version out there and it's readily available on streaming platforms? This is especially true regarding Disney's live-action feature, The Little Mermaid, directed by Rob Marshall and written by David Magee. Controversy aside, the original animated classic is far superior, and it is best just to avoid this one.
Based loosely on Hans Christian Anderson's story, Ariel (Halle Bailey) is a little mermaid who wonders what life is like for surface dwellers. So she's been collecting surface artifacts with her friend, Flounder (Jacob Tremblay), the tiny crab Sabastian (Daveed Diggs), and their seagull friend, Scuttle (Awkwafina). Meanwhile, Ariel's father, King Triton (Javier Bardem), forbids any merfolk from breaching the ocean's surface, as humans are their sworn enemies.
Seeing a ship from afar, Ariel gets a closer peek and spies the handsome Prince Eric (Jonah Hauer-King). With his good looks and shaggy dog, Ariel becomes enamored. Then, during a celebration, the ship hits a reef and sinks. Ariel rescues Eric but runs before he can see she's a mermaid. Wanting to be with Eric, Ariel makes a deal with the sea witch Ursula (Melissa McCarthy), who gives her legs in exchange for her voice. Ariel has three days to make Eric kiss her. Otherwise, she will become the property of Ursula.
"Ariel has three days to make Eric kiss her. Otherwise, she will become the property of Ursula."
It's only fair to start with what's good about The Little Mermaid. McCarthy is great as Ursula. She's a fun villain, and children were crying at my screening. She's got the voice, pipes, and attitude of the original Ursula, Pat Carroll. The other good part is the song "Kiss the Girl." Yes, they rewrote two lines to imply consent. Annoying but passable. What Marshall's version does so well that the animated feature couldn't capture is making Ariel and Eric actually fall in love. In this way, this moment feels more romantic.
So let's get into what's wrong with this film. First, the runtime. Two hours and fifteen minutes is just too long for the target audience. Many of the kids at my screening were getting antsy as the musical just kept going. One mother said she had to bribe her child with a toy to get them to sit still through the rest of the movie. The second act goes on way too long.
Speaking of the second act, The Little Mermaid features three new songs by Lin Manuel Miranda and Alan Menken, plus a whole lot of meddling from the original. Did Howard Ashman get it wrong all along? NO! Prince Eric sings "Wild Uncharted Waters" while walking down a long path to the ocean, where he emotes all over the place. It's poorly shot and typical of pretentious Broadway musicals. "For the First Time" sees Ariel singing in her head after losing her voice. This is problematic from a storytelling standpoint. "The Scuttlebutt" by Scuttle is simply cringe and annoying. Why did they have to take away Awkwafina's blaccent? Yes, I know what, and it's unfair.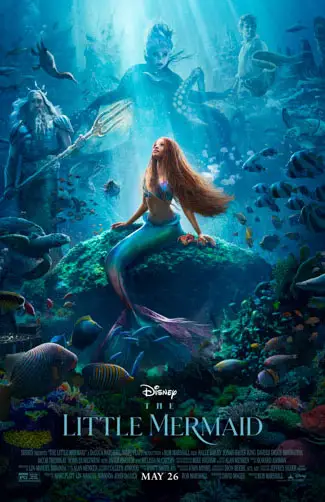 "…is Halle Bailey taking over Jodi Benson's spot as the top princess?"