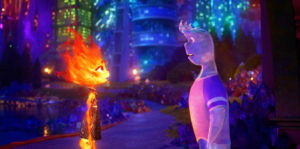 NOW IN THEATERS! Pixar is back with its first original story to hit theaters in a long time. Director Peter Sohn and writers John Hoberg, Kat Likkel, and Brenda Hsueh's Elemental wonders if the flames of love's passion can exist between water and fire. The earth, wind, and water inhabitants of Element City co-exist in natural harmony. In an effort to diversify the city population, the fire people are given a chance to move in but are relegated to their own section of the city. Fire = bad!
Our story centers on Ember (Leah Lewis), a young woman who lives with her immigrant parents, Bernie (Ronnie Del Carmen) and Cinder (Shila Ommi). The family runs a convenience store for the fire-people called The Fireplace, and it's Ember's dream to take over the business from her retiring father. When given the chance to run the store on her own, she discovers a serious leak in the basement. This is startling as there's not supposed to be water in Firetown.
When investigating, the water pipes burst, and out appears water-person Wade (Mamoudou Athie). He got caught in a mysterious wave of water and sent into those pipes. The store is in lousy shape, so Wade is forced to file several building code violations at City Hall, which would shut down the store for good. Ember pleads with Wade and chases him down to plead her case. Wade's boss, Gale (Wendi McLendon-Covey), gives Ember a week to fix the problem, or she'll douse out her father's shop.
All this drama in Elemental only exists to tell a love story between Ember and Wade. Like West Side Story, the two live on opposite sides of the track. The residents of Element City do not like the Fire People because they burn things down by accident. Quite frankly, they could kill the water, earth, and wind people with a simple wrong step. The film navigates through this relationship, and as the two learn about one another, their past, and passion for the future, the heartstrings begin to play. Ember is hot-headed but loves her family deeply. Wade is overly sensitive and emotional and cries at anything sentimental. The deeper they fall for one another, the more difficult it becomes to express their affection physically.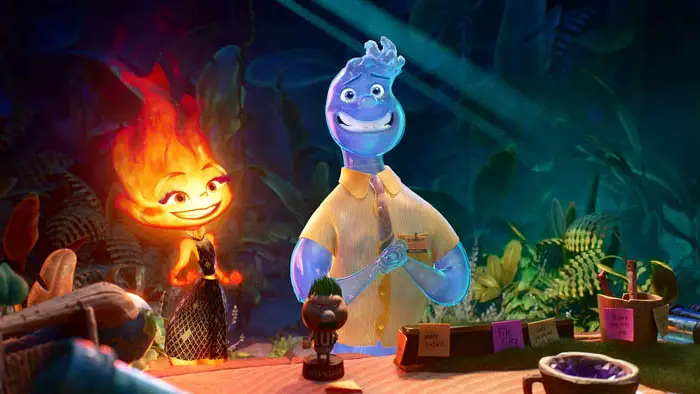 "…a love story between Ember and Wade. Like West Side Story, the two live on opposite sides of the track."
The screenwriters weave in the immigrant story nicely. I assume this reflects Sohn's life experience. The fire-people are feared for their destructive powers but work hard to establish their place in Element City. When Wade comes calling for Ember, there comes a blending of two cultures.
I'm incredibly mixed on Elemental. What's worth recommending is the love story between Ember and Wade. When was the last time Disney told a love story between a boy and a girl that involved kissing? It works, and I found myself rooting for the pair. The problem is, do little children want to see a romance? Do adults want to see an animated love story for kids? Great story but a hard marketing sell.
The story structure keeps this from being a Disney/Pixar classic. It's slow from the very start as it opens with an overview of Element City, which, quite frankly, we've seen in other classics like Monsters University, Inside Out, and Soul. The gags are a series of really lame dad jokes, and it's missing the awe and wonder that will delight viewers of all ages. Yes, it's subjective, but I never found myself immersed in this world in a way that I wanted to be part of. In other words, the magic is missing.
Elemental gets a very tepid recommendation from me, specifically for anyone who wants to see a love story. Unfortunately, since this is a romance aimed at everyone, that audience is very narrow.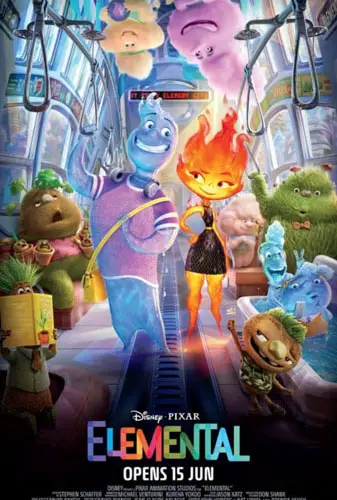 "…I found myself rooting for the pair."