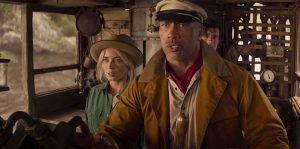 Low expectations are the key. As much as I love and adore Disney's animated features, their live-action stuff has a pretty spotty track record, to say the least. As far as movies based on attractions go, Pirates of the Caribbean did well enough to warrant several unnecessary sequels, but Haunted Mansion was a non-starter and The Country Bears was a total dud. This brings us to Jaume Collet-Serra's Jungle Cruise.
It's 1916, and Lily Houghton (Emily Blunt), a British botanist, and her brother, MacGregor (Jack Whitehall), are searching for the mythological Tree of Life, whose petals possess healing powers. Her hopes for a properly funded expedition are immediately dismissed by her peers for several reasons. One is because the Tree of Life is only a legend and the second is, of course, because Lily is a woman… who wears pants.
"…Lily…and MacGregor are searching for the mythological Tree of Life, whose petals possess healing powers."
Determined, Lilly and MacGregor venture on their own to the Amazon where they hire Skipper Frank Wolff (Dwayne Johnson) to take them down the river. Frank, though, hides the fact that he is a grifter, conning tourists out of their cash on his famed "Jungle Cruise." He steals because he is deep in debt to the greedy harbormaster, Nilo Nemolato (Paul Giamatti). who is clearly experiencing early-stage onset skin cancer.
Jessie Plemons plays the big bad. Prince Joachim. He is a German aristocrat who is also on the search for the Tree of Life and hopes to use its healing power to help his homeland reach its goals of world domination. As our fearless trio travel by boat, Joachim scoots along in his fully-armed German submarine.
So, let me set the tone. Jungle Cruise is Disney's version of the Indiana Jones titles, which ironically sits across the river from the Jungle Cruise ride at Disneyland. The adventure is similar to Indy but with that signature Disney wink-at-the-camera cheesiness. This "homage" is not a negative really as it sets the playful fun tone and establishes the gritty, high-stakes thrills.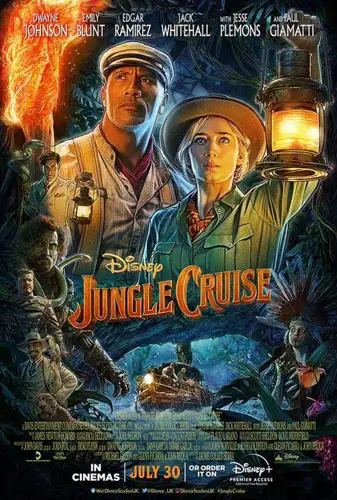 "…Blunt plays Lily Houghton, a British scientist…who wears pants."