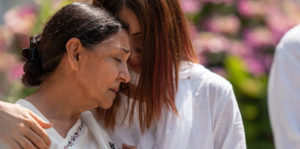 A lot that stems from inside us comes from our relationships, especially the ones we built growing up with our parents. In all the healthy and unhealthy moments we share with them, our life and outlook toward the world is shaped. Co-writer/director Pushan Kripalani and co-writer Arghya Lahiri's drama Goldfish is a profound exploration of separation, loneliness, and emotional disconnect between a mother and daughter while exploring the underlying feelings that may help overcome them.
Anamika (Kalki Koechlin) and her mother, Sadhana (Deepti Naval), have outright hated each other for years. We never figure out any specific reason for such a dynamic, but there are underlying subtexts in discussions and an audio-only narration of Anamika's memories of her father. Anamika's English father was the more caring of the parents, while Sadhana's more restrictive style of care oppressed the child. Sadhana's failure to overcome the loss of her husband also resulted in her neglecting her daughter. The troubled and estranged daughter returns home to help her mom after Sadhana, a former classical singer, suffers from a rapidly growing case of dementia. Anamika feels as if she's in a war between fulfilling her duties towards her mother against her haunted past and the grudges she holds against Sadhana.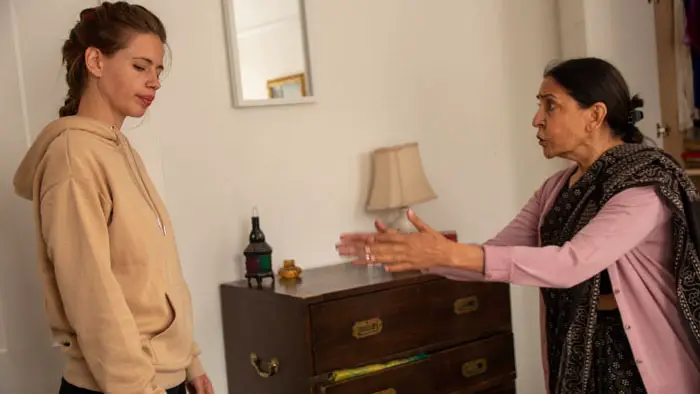 "…estranged daughter returns home to help her mom after Sadhana…suffers from a rapidly growing case of dementia."
These conflicting notions Anamika possesses reflect upon her loneliness and abandonment issues, further harboring hostility and displeasure towards life in general. In contrast, her reunion with other members of the neighborhood brings back the warmth of lost good memories. Anamika has a bittersweet meeting with an old friend. There's a casual camaraderie between her and her neighbor, as well as a snarky back-and-forth with the traditional elderly acquaintances of her mother. These encounters fill Anamika with a plethora of thoughts, perfectly depicting a mindset torn by grief, loss, hatred, and unfathomable familial friction. However, to some extent, these past and new friendships and relationships bring a warmth that wasn't always around her growing up.
The thematic thread of Goldfish is the struggling mindscape of the main character. Her thoughts and actions are relatable and realistic. A child living through an inexplainable trauma, which no one seems to notice or acknowledge, further fuels tensions and the decomposing mental stability and trust Anamika has in society. The narrative accurately considers Anamika's feelings and how society compels her to move on because of her mother's ailment and old age. The film doesn't force you to choose sides nor puts you in the jury's seat. It's only a tale of navigating a crisis and everyone's sentiments that the situation is extending.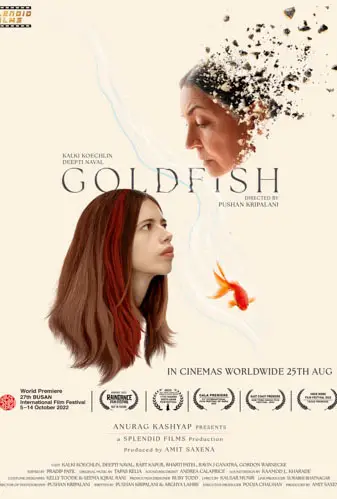 "…a mature character study..."