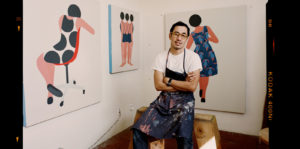 SXSW FILM &TV FESTIVAL 2023 REVIEW! When people say the word "artist," they mean a painter. For most humans on this rock, art = visual. It's oddly limiting, given that in order for the person to paint a thing, they first need to experience it. Then they needed to find the poetic essence of the object, person, or place. Finally, they take all the experiences of various other forms of art – sculpture, poetry, music, etc. – and translate all that fine material into a finished rendered painting. I possess a degree in Art Education and have been experiencing this pet peeve for many decades. Enter co-writer/director Dan Covert's documentary Geoff McFetridge: Drawing a Life.
In writers Covert, Erik Auli, Amy Dempsey, and Tara Rose Stromberg, we find people who get the concept that art and the term artist are far more holistic and all-encompassing of human experience and not just a damned painter. Their subject is graphic designer Geoff McFetridge Although, to be clear, the subject does paint quite a lot of paintings; he's just not limited to that one art form.
Geoff McFetridge: Drawing a Life, a "portrait biography," is introspective, powered by McFetridge's poetry. Each chapter ensues with a passage from his written work. Also, when you see the fluidity of the movements expressed in his artwork, you get a real sense of poetry in motion. To that end, McFetridge spent his working life, starting in the 1990s to now, crafting this style of art and design. A graphic designer by trade, McFetridge started out as the art director for the Beastie Boy's fanzine. He then goes on to design art for Apple, Adidas, the City of Los Angeles, and a few notable indie filmmakers.
Of particular note to me is his work with Spike Jonze. Certainly, McFetridge designed poster art for Sophia Coppola's The Virgin Suicides, but it's with Jonze (who executive produced this documentary) we see the full range of the man's promotional art and design. He worked on every film Jonze directed, from Being John Malkovich to Her. McFetridge's designs power that last film. Apparently, Jonze gave him one note concerning the design: the future should look nice.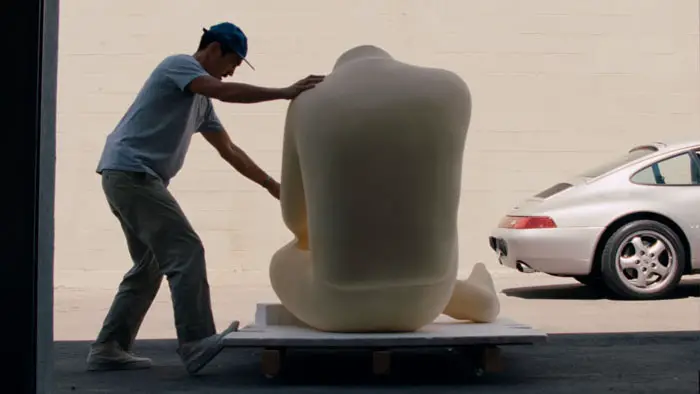 "…McFetridge started out as the art director for the Beastie Boy's fanzine. He then goes on to design art for Apple, Adidas…"
Nice is the catchphrase of McFetridge's artistic motivations. He wants to avoid the dystopic, the mean-spirited, and the dark. Instead, he's looking to create a world that's light, breezy, and yet deeply connected. Creating the pleasing visual aesthetic for a universe where Joaquin Phoenix's character falls deeply in love with his computer's interface is the sort of warm interconnectivity that appeals to the artist.
Covert and his collaborators have designed, developed, and produced a wondrous multi-faceted work that embodies the portrait of their subject. I was especially taken with two aspects of Geoff McFetridge: Drawing a Life. First, there's the cinematography. Claudio Rietti and Daniel Vicheone have prepared a beautifully composed, expertly framed film. The use of natural light and the quality of the digital film stock is breathtaking. There is one shot of a light blue lifeguard station overlooking Venice beach that is stand out, knock-down gorgeous.
Then there's the editing. Covert and Auli have seamlessly and effectively interspliced still footage, passages of McFetridge's family life, and the artist at work. They also highlight exhibits of said products at galleries across the world. The use of Andrew Paynter's fantastic photography cannot be overstated. Really give a sense of Geoff McFetridge's intensity which duels with his sense of playfulness.
Ultimately, Geoff McFetridge: Drawing a Life is a very good first film for Covert. It's a high watermark to start a feature film career on. I look forward to what he and his team do next. Seek this out as soon as possible, it's a truly fantastic experience.
Geoff McFetridge: Drawing a Life screened at the 2023 SXSW Film & TV Festival.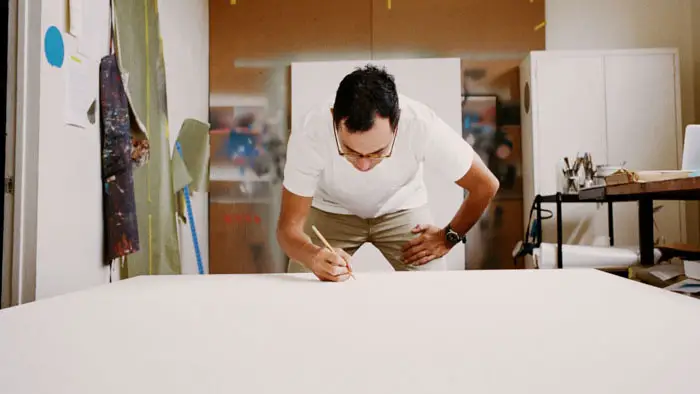 "…a wondrous multi-faceted work..."