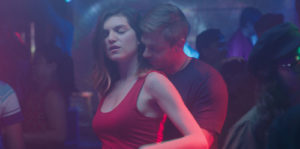 Watching Luke Mayze's indie romance, Forever First Love, made me realize that Hollywood forgot how to fall in love a long time ago. Writer-director Mayze simply strips away the pretense, isolates his tale on a man and woman, and explores love from there. The filmmaker invites you to go along the leads' journey of love, and your heart will break as the cracks in their relationship start to form.
While on a business trip in the Philippines, Anna (Carlotta Morelli) bumps into her first love, Paul (Steven Rooke), a photographer on assignment. The two were an item as young adults long ago, and this is their first meeting since the breakup. Anna has hours to kill before an important business meeting, and Paul offers to take her on a tour to a super-secret location. Naturally, Anna says yes, and away they go on a bus tour of the countryside.
Along the way, Paul's old nature comes out as he begins cracking inappropriate jokes and insists on taking Anna's picture against her wishes. Then, believe it or not, Paul cracks a not-so-funny Hitler joke, and Anna storms off. Paul soon chases her down and apologizes profusely for his behavior, but Anna realizes that some of his remarks are not entirely wrong (not the Hitler joke). It's this moment of vulnerability from Paul that sparks Anna into rescheduling her appointment for a night of lovemaking.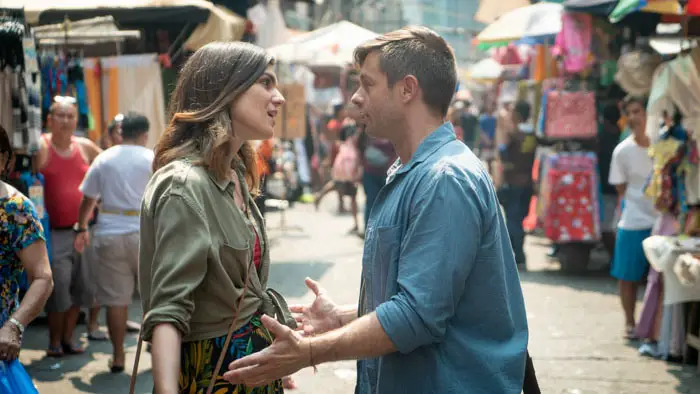 "…were an item as young adults long ago, and this is their first meeting since the breakup."
Forever First Love is a powerful indie movie that hits on everything you want in a romance. Mayze's script, based on a story by him and Kevin Spink, slowly introduces us to the lead characters and builds the passion from there. The narrative leans into the idea that when a couple first falls in love, they live in this bubble of intense, passionate romance. Paul and Anna are fortunate to have lived in this bubble twice. Their emotions are so heightened that the world (and reality) doesn't exist; until it does. The passion is hot and heavy, and as our lovers wish, it will never end. Well, until it must.
I am glad I knew nothing about the lead actors before watching this. Neither is given the shorthand one would get from a Hollywood affair starring Hanks & Ryan or Bogey & Becall. The flick works because of Rooke and Morelli's performances. This is a guy talking, but Carlotta Morelli is drop-dead gorgeous. How can you not fall in love with her? As Paul, Steven Rooke is somewhat of a dick, but to his credit, he slowly becomes the most sympathetic of the pair. At first, you don't understand their chemistry, but before you know it, things become hot and heavy.
The dialogue is clever and void of your typical sappiness. For example, the words "I love you" mean something. The conversations are authentic about the past, their present lives, and the uncertainty of the future. There's a discussion about Anna's family and childhood that seems like a get-to-know-you moment. You'd almost write it off until you realize how it plays into her overall character.
I'm not much of a fan of romance, but this got to me. Not coming from the United States, Forever First Love feels free of the checklist of Hollywood's formulaic stories. The performances are authentic, and the plot is an example of why romances make so much money in both literature and cinema. Mayze's film gets a high-praise recommendation from this dude.
For more information about Forever First Love, visit Luke Mayze's official website.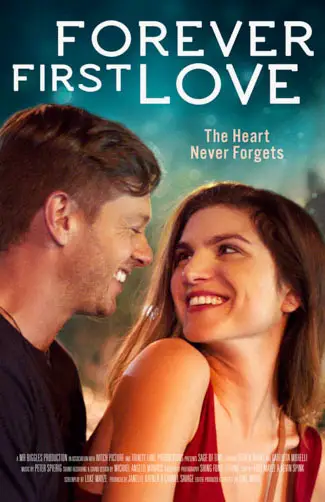 "…not much of a fan of romance, but this got to me."