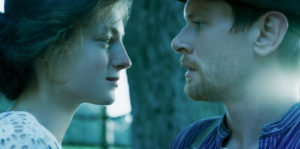 NOW IN THEATERS! Feminist softcore porn. How's that for a lead-in? Direcir Laure de Clermont-Tonnerre's Lady Chatterley's Lover is being touted as a female-empowering sexually-charged romance, but when you strip away all the pretense, what are you left with but a highly explicit and erotic drama?
Based on the banned D.H. Lawrence novel of the same name, Lady Chatterley's Lover, written by David Magee, is the story of Lady Constance Chatterley (Emma Corrin), who marries Lord Clifford Chatterley (Matthew Duckett) for love. The two marry just as Clifford is being sent to fight in World War I. Months later, Clifford returns home after an injury leaves him paralyzed from the waist down, making him incapable of performing his "husbandly" duties in bed. Desiring an heir, Clifford hints that if Connie were to have a discreet affair and bear him a child, he would not say a word and take the child as his own.
Connie is, of course, horrified by the suggestion. But Clifford begins acting as the greedy, tyrannical Lord of his coal-mining town, and he grows increasingly distant from her in the romance department. Connie's eye wanders to the estate's handsome, strapping games-keeper, Oliver (Jack O'Connell). So each day, Connie heads out to Oliver's cottage to read her books just beyond the view of the manor. The longing looks the two give to one another soon turns to moments of forbidden passion until Lady Chatterley utters the romantic words, "I want you to f**k me." Now it's game on.
"…Clifford hints that if Connie were to have a discreet affair and bear him a child, he would not say a word…"
Softcore porn, right? Something you'd see on Skin-a-Max. Yeah, Connie and Oliver have sex… the rated-R, full-frontal kind, and a lot of it. It's all delightful and romantic, and sweaty. I had the pleasure to see Lady Chatterley's Lover at its premiere at the 2022 AFI Fest with a theater full of cinephiles like myself. The director Laure de Clermont-Tonnerre was there for a very "enlightened" discussion about the film (we did see the same movie, right?). The original story by D.H. Lawrence was banned for decades for indecency. Most adaptations focused on the eroticism of the tale.
Laure's version is about Connie and how she takes the story back for women by presenting sex in all its feminist glory. She tells the story solely from Lady Chatterley's perspective while empowering her to use her body as she pleases. She's not wrong. Connie is a strong woman who finds agency with whom she chooses to be with and have sex with. Her marriage to Lord Clifford was one of love and admiration. Her affair with Oliver was for herself and of her choosing. Ultimately, the film is a triumphant story for Lady Chatterley (which I understand is not in the book).
Feminist softcore porn, you ask? My tongue is squarely set in my cheek. Lady Chatterley's Lover has the look, feel, and beauty of your Merchant-Ivory high-brow English dramas. Simply add sex and nudity. Emma Corrin and Jack O'Connell give grounded, believable performances that would make porn sets look like community theater (how bad does that sound?).
Lady Chatterley's Lover is a fine film worth watching if this story intrigues you. At my screening, many of my fellow film buffs couldn't get over themselves concerning the artistic accomplishment of this adaptation. I found myself in an "Emporer's New Clothes" situation, wondering if I should say anything. Nah. Let them see what they want to see.
Lady Chatterley's Lover screened at the 2022 AFI Fest.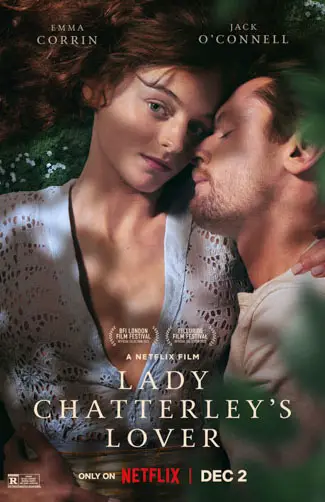 "…feminist softcore porn."