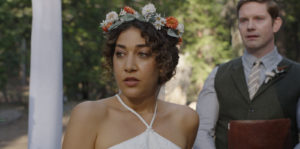 The opening scene to writer-director Mandy Fabian's debut, Jess Plus None, will undoubtedly capture your attention. It provides valuable insight into the titular Jess (Abby Miller), a heartbroken 30-something desperate to love and be loved, yet she's confused between sex and love. Let's just say it's a solo sex scene. Quickly we realize Jess is getting ready to leave town to be the maid of honor at Melanie's (Marielle Scott) wedding to Greg (Scott Speiser). It is a destination "glamping" wedding in the woods.
In several subplots, the filmmaker covers all the bases of relationships, centering around these formerly close-knit college pals. In great detail, Fabian reveals everyone's personalities and all the chaos that ensues, including Jess being harassed by who is supposed to be her wedding date Cliff (who we never see but do hear). No one can ignore the weighing undertone that Sam, Jess' ex, will be a guest. Constantly bringing up Sam, sniffing her Vassar sweatshirt, and a non-stop need to m********e everywhere, Jess is a mess and has lost her way, but not without her humor and wit.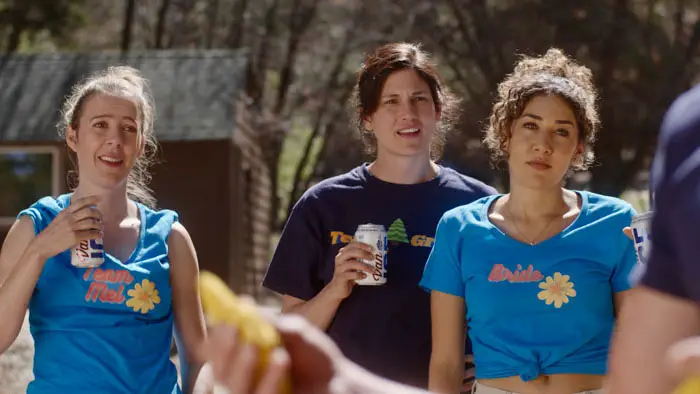 "…getting ready to leave town to be the maid of honor at…a destination 'glamping' wedding…"
Then there's Wendy (Alexis Krause) and Nate (Tate Ellington), a married couple who left their young son behind. This worries Tate but not Wendy, who seeks attention from Hugh (Shalim Ortiz), who has become a famous and sexy singer. Other college friends include Peter (Rory O'Malley) and Vince (Craig Thomas), who are seemingly a match made in heaven but struggle with age differences and commitment. And then there's the bride and groom, who appear to be opposites and unconnected. The only single guest in attendance is Melanie's brother Brian (Michael Dunn), who is the ultimate comic relief. With the force of nature at work in many aspects, everyone must confront their relationship issues and their (in)ability to help one another, including future decisions, especially for the bride and groom.
Jess Plus None gets a lot of mileage out of its wooden terrain. The location is the perfect spot for old resentments, lingering longing, and fears to come forth. This allows for some hilarious moments that might feel overly done if in a more urban locale. Plus, the cast is strong. Miller is a talent on the rise and can make the bizarre hilarious and honest. She's also adept at some good, old-fashioned slapstick. The group dynamic and energy on the screen make everything both relatable and humorous. While some scenes hit the expected romantic comedy beats, these characters, as portrayed by these actors, are fun to hang out with for a breezy 100 minutes.
Fabian put forth great effort in utilizing her location and script to add incredible comedy and wit to an age-old story. Jess Plus None feels familiar, but it never loses a beat, holding your attention until the end. It's a rom-com that serves many people and leaves you smiling. The writer-director offers a well-thought-out narrative with something to say about love, especially for a debut feature.
Jess Plus None screened at the 2023 Frameline Film Festival. For screening information, visit the Jess Plus None official website.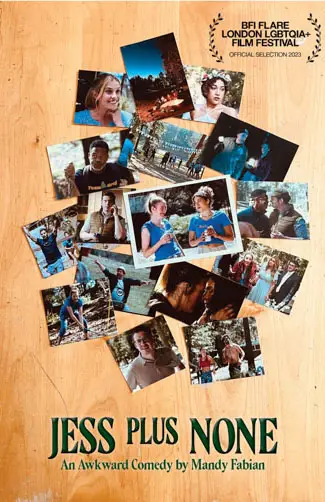 "…well-thought-out narrative with something to say about love..."