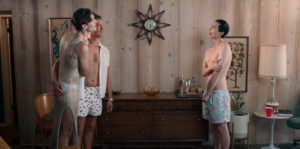 The short romantic comedy Hotter Up Close has a lot of fun toying with expectations. Directed by Leland Montgomery and written by star Christopher Matias Aguila, the film follows Chris (Christopher Matias Aguila) on his 30th birthday. While the gay man is not too worried about hitting the big 3-0, his mount of insecurities about… name a thing… put his social and romantic life into a standstill.
But, his best friend and fellow barista, Dana (Liz Jenkins), encourages Chris to take a risk and put himself out there. Or at least do something to try and forget about his ex, Brad (John David Williams). That's when the good-looking Aiden (Francisco San Martin) walks into the coffee shop, wishes Chris a happy birthday, and invites him to a pool party. While Chris sputters about for the right words, Dana accepts on his behalf. At the party, Chris must navigate the interpersonal relationships of everyone there and determine if Aiden was flirting with him or just being friendly.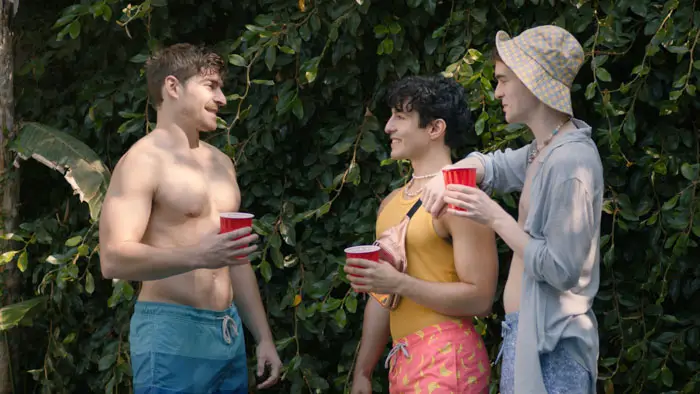 "…Aiden walks into the coffee shop, wishes Chris a happy birthday, and invites him to a pool party."
Hotter Up Close takes what could be considered a stereotypical representation of an LGBTQIA+ person and, in just 15-minutes, turns them into a well-rounded, likable person. This is in large part due to Aguila's light-on-its-feet script and captivating, hysterical performance. Of course, he is supported by the great Jenkins, whose larger-than-life personality is hard to ignore. Happily, San Martin gets to prove he's more than just a very pretty face, as he's instantly charming and sweet from his first appearance onward.
Montgomery keeps the pace up, and the jokes, especially the last one, land with ease. While Hotter Up Close may not totally rewrite the rom-com, it sure does spin elements of the genre on their head. All in all, this is an amusing little flick well worth one's time.
For more on Hotter Up Close, check out the director's site.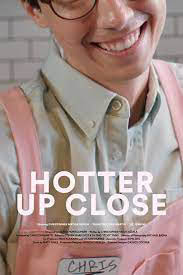 "…captivating, hysterical..."