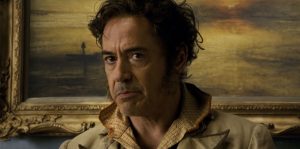 So, the critic that gave a positive review to The Lion King and Cats has been tasked with taking on Universal's Dolittle in a last-ditch attempt to recoup his credibility. I think he's (me) done it. Dolittle is a giant mess of a movie.
Robert Downey Jr. is Dr. John Dolittle. In a wonderfully animated prologue, we see that Dr. Dolittle is a gifted animal linguist. He can speak and understand every language of the animal kingdom. On one of his adventures, he meets and marries his soon-to-be wife, the adventurer, Lily (Kasia Smutniak). Impressed by his talents, Queen Victoria (Jessie Buckley) of England donates a large plot of land to serve as an animal sanctuary for the Dolittles to care for a vast menagerie of exotic animals. Dolittle Manor would be England's most popular educational destination.
Soon, Lily would go on a mysterious adventure and never return. Saddened by her death, Dolittle closes the Manor permanently and locks himself within its walls, shunning all contact with humans and the outside world. The animals would be his only companions. Dolittle would soon fade away into legend as fast-growing foliage would hide the manor from the public.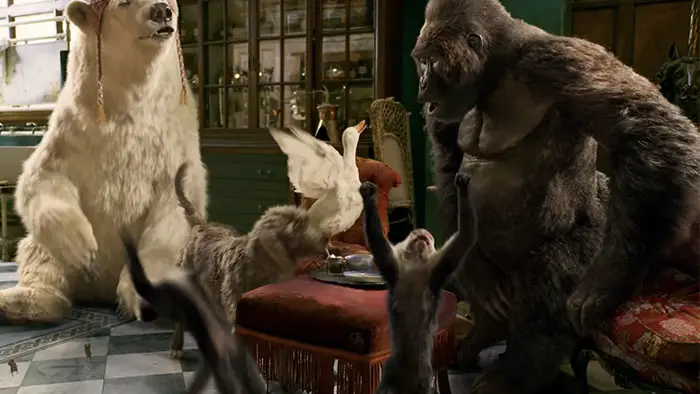 "…Queen Victoria falls deathly ill, and she summons Dolittle to set sail on an epic adventure to a mythical island for a cure."
As fate would have it, the young Queen Victoria falls deathly ill, and she summons Dolittle to set sail on an epic adventure to a mythical island for a cure. This is the same island Lily lost her life trying to find. The depressed Dolittle reluctantly agrees, thanks to the coaxing of his animal friends. The crew would be joined by a young human stowaway Tommy (Harry Collett), who is fascinated by Dolittle's ability to communicate with animals.
Dolittle's crew consists of a herd of talking animals including Chee Chee (Rami Malek), an anxious gorilla; Dab-Dab (Octavia Spencer), a not-so-smart duck; Plimpton (Kumail Nanjiani), a cynical ostrich, who is paired with the optimistic polar bear, Yoshi (John Cena), and Poly (Emma Thompson), Dolittle's wise parrot advisor. Also in the mix is Jip (Tom Holland) the dog, Betsy (Selena Gomez) the giraffe, Tutu (Marion Cotillard) the fox, and James (Jason Manzoukas), the dragonfly.
Up to no good is the Queen's successor, the evil Lord Thomas Badgley (Jim Broadbent), and Dr. Blair Mudfly (Michael Sheen), whom Lord Badgley secretly tasks to find the mysterious cure and dispatch/murder Dolittle and crew. While I'm mentioning bad guys, there's Antonio Banderas as Rassouli, the pirate king and his killer tiger, Barry (Ralph Fiennes).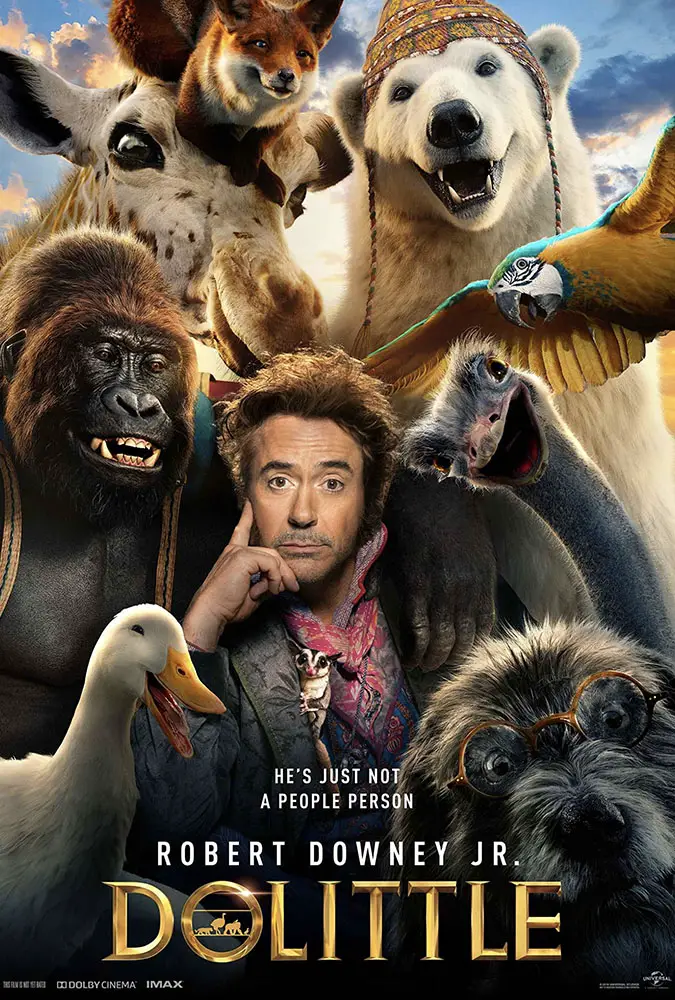 "…the animals are essentially cartoon characters—cute creatures with quirks."