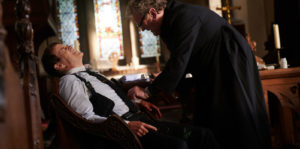 In David Beton's thriller Confession, Father Peter (Colm Meaney) finishes up the nightly responsibilities in preparation to leave for the night. As he gets ready to head home, in walks Victor Strong (Stephen Moyer), armed with a gun and a bleeding torso. Victor isn't there to rob the place or even kill anyone. Instead, he's there to make a damning confession.
Writer/director Beton's 90-minute feature is more than meets the eye. This action-thriller is actually a long conversation about past mistakes and common ground. In the opening sequence, Victor writes a letter to his daughter, apologizing and confessing his past mistakes. It is attention-grabbing and firmly plants the intrigue with beautiful cinematography, by Andrew Rodger, to assist. This arrangement leads to an opening credits sequence that contains a remarkably eye-piercing design. And these early promises of visual appeal last all the way through to the very end.
While a simple one, the story is anxiety-inducing for all the right reasons. The script allows audiences to assimilate information about the main characters through conversation. Sudden surprises and moments ramp up the film's appeal as well. This "calm before the storm" strategy is perfect in every way. It provides an intense atmosphere and results in an unpredictable watching experience.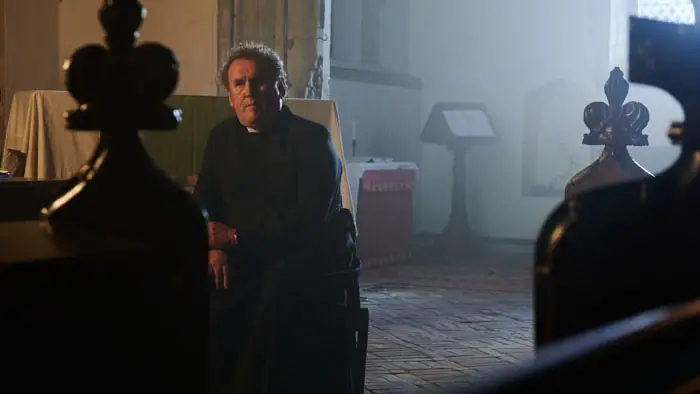 "Victor isn't there to rob the place or even kill anyone. Instead, he's there to make a damning confession."
My favorite part about Confession is that it's more than a story about facing all your demons or trying to find absolution. Rather it is about intrinsic goodness vs. inherent evil. After all, "not all confessions reveal wrongdoing." Beton's screenplay elegantly showcases this when the focus is on conversation as opposed to the action. It is also what elevates the narrative from a mundane one to a tale that is as exciting as it is thoughtful.
Beton also leans into this narrative with the support of his keen director's eye. Taking place entirely inside the church, he uses the setting to his advantage. The plot concentrates on the intimacy of the conversation. Additionally, composer Dimitri Smith supports these tense moments with chilling music, amplifying the upcoming conflict. Oftentimes, the music overpowers the natural dialogue, but it is positively piercing nonetheless. Beton and Smith's collaboration is a smart approach towards viable storytelling and character analysis through mood and music.
Due to the somewhat slow-burn nature of the film, I understood the character connections and plot reveals. As a result, confrontations felt earned and eventful. One thing that does tend to hurt the production is the acting. Leading the pack is Stephen Moyer, who plays Victor Strong with intensity and potent conviction. However, the supporting cast wasn't as persuasive. Luckily, the film gets into a groove to a point where these distractions are no longer noticeable.
In the end, David Beton's Confession is an entertaining body of work. With stunning visuals and cinematography and a score that amplifies the powerful ambiance, most things work well here. At a glance, this slow-burn plot may seem like an action-thriller. But thanks to the fascinating character study embedded in this script, it can hold anyone's attention with the dialogue alone.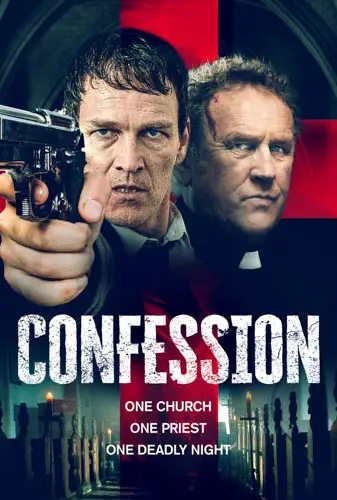 "…it can hold anyone's attention with the dialogue alone."