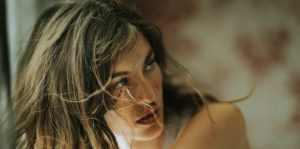 Director D.J. Caruso and writer Melanie Toast's Shut In is the first feature film coming out of the infamous website Daily Wire. Yes, that Daily Wire. I personally don't read it, but it's not hard to figure out their bent. But I'm just here to review their movie. After watching this, I can claim that it has very little to do with the site's main content. I will say the trailer makes it look like a Christian thriller, but it's not (thank God!). So let's save the politics for the comments section and dive right into this thriller.
Jessica (Rainey Qualley) is a recently separated mother of toddler Lainey (Luciana VanDette) and her infant son. She's currently living in the dilapidated home of her deceased mother and getting ready to sell the house, cash out, and get as far away from her drug-addict ex-husband Rob (Jake Horowitz) as possible. While preparing to move, Jessica gets stuck in the large kitchen pantry (I would kill for it) and can't get out. As the house is secluded, little Lainey is unable to help. Unfortunately, Rob shows up to let her out. But, there's an even worse problem, as he brought his friend Sammy (Vincent Gallo) along, who everyone suspects is a child molester.
Jessica lets Rob know she is moving away, beating around the bush that Rob's addiction is the main reason. Goaded by Sammy, her angry ex shoves Jessica back in the pantry, takes her phone, and nails the door shut, impaling her right hand. Jessica is again trapped with no one to help, leaving Lainey and her brother helpless on the other side. Lainey is scared and hungry, and the baby does what babies do. Once again, making matters worse, someone arrives at the house, and it's not Rob.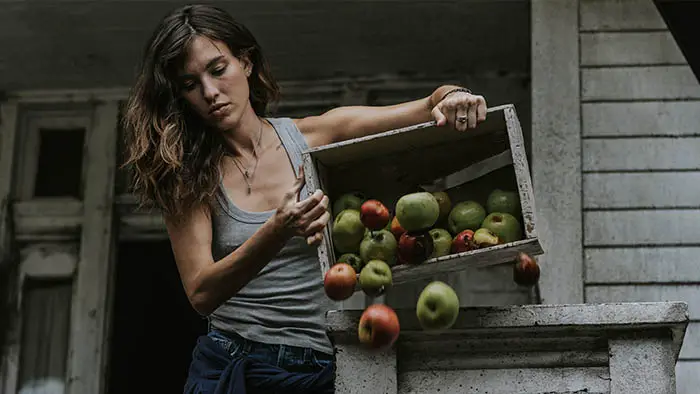 "…shoves Jessica back in the pantry, takes her phone, and nails the door shut…"
Shut In screams independent production. The fact that the entire thing is shot in a single location and that for seventy percent of the runtime, it takes place in a pantry is more than enough of a tip-off. Though it doesn't have the feel of a big cinematic thriller, Caruso manages to build a high level of suspense in such a small space, as the action is beautifully shot. Everything from composition to camera movement to lighting is top-notch. Considering the budget and that this is the first feature from Daily Wire, it's loaded with a lot of formerly disillusioned production talent grateful for a chance to make a high-quality film outside the Hollywood system, and it shows.
The entire movie rests on the fantastic performance of Rainey Qualley. There's more to her role than just acting scared and yelling through a door. She hits the right note as a woman struggling to get beyond her mistakes and better her family's life. But, unfortunately, she's trapped by those demons in her past. The highlight is the non-verbal glances between a few grams of meth and her mother's Bible.
Shut In is a good start for a very new production company. I prefer my thrillers to be much bigger in scope with car chases, computer hacking, and ticking timebombs. But, as small as this is, you're in for an engaging ride, and it sets a good standard for any indie filmmaker wanting to try this genre. D.J. Caruso masterfully orchestrates this symphony of suspense, albeit a twenty-piece symphony, but a symphony nonetheless.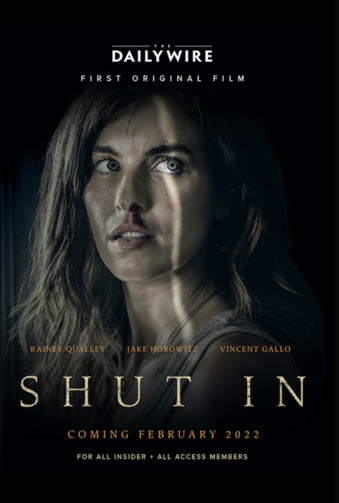 "…rests on the fantastic performance of Rainey Qualley."