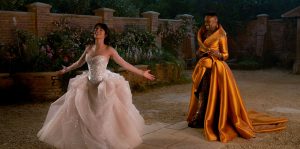 NEW TO AMAZON PRIME VIDEO! Kay Cannon is best-known for penning the Pitch Perfect films, the first two of which are comedic gold, while the third is an insulting slap across the face to fans of the previous entries and one of the worst musicals ever. She made her directorial debut with the shockingly funny and good-hearted Blockers. Singer Camila Cabello hit it big a few years ago with the hit song "Havana," which I absolutely cannot stand. Now, these two artists combine their forces for an Amazon Prime original movie, a musical retelling of the fairytale Cinderella.
Considering the proliferation of fairy tales across all media, Cinderella especially, it is hard to see why another version needed to be made at all. Disney has two excellent feature films about the character (the animated classic and the arguably better live-action remake), with an odd though engaging DTDVD sequel in Cinderella III: A Twist In Time. The goofy but charming Ever After exists, and the Roger & Hammerstein version starring a perfectly cast Lesley Ann Warren (or the Brandy starring remake) is delightful. This is just the tip of the iceberg and does not cover the character's looser adaptations or ensemble outings, i.e., Into The Woods. So, can writer/director Cannon find a new way to bring the oft-told tale to life in an appealing way while highlighting her star's musical talents?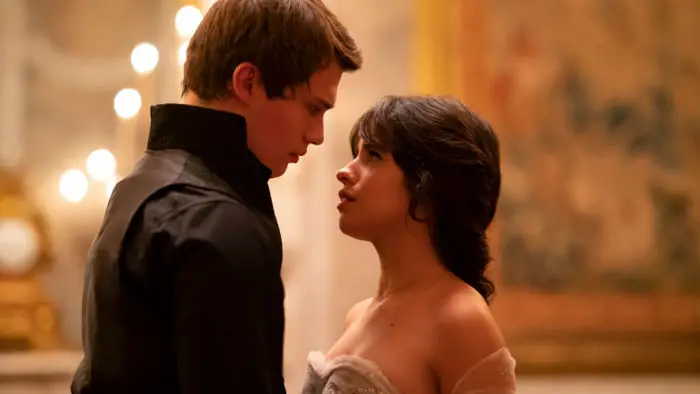 "…thanks to the Fabulous Godmother, she makes it just in time to dance with Robert…"
Ella (Camila Cabello) is at the beckon and call of her stepmother, Vivian (Idina Menzel), and stepsisters, Malvolia (Maddie Baillio) and Narissa (Charlotte Spencer). They've nicknamed her "Cinder-ella" as, due to all her chores, she's always covered in ash and soot. But, their cruelty and belittling of Ella do nothing to tamp down on her optimism, as she holds out hope that her dream of designing dresses is still within her grasp.
Prince Robert (Nicholas Galitzine) is feeling pressure from his father, King Rowan (Pierce Brosnan), to start taking his studies seriously and find a wife so that he will be prepared to take the throne. Robert has no interest in doing anything of the sort, though his younger sister, Gwen (Tallulah Greive), is most keen to become the head of state. However, after a chance meeting with Ella, he's instantly smitten and arranges the King's Ball so that all maidens in the land can come. Of course, the stepfamily almost prevents Ella from attending, but thanks to the Fabulous Godmother (Billy Porter), she makes it just in time to dance with Robert and fall in love. Now, Ella is facing the dilemma of her life: follow her heart or follow her dreams.
Cinderella fails spectacularly on just about every level. Cannon struggles to find the right atmosphere, so the magical elements never feel real, rubbing against the more grounded drama and comedic lines in all the wrong ways. Not helping matters is the production design, which, if I'm being charitable, is low-rent Ren Faire at best, and barely finished sets, with visible seams at worst.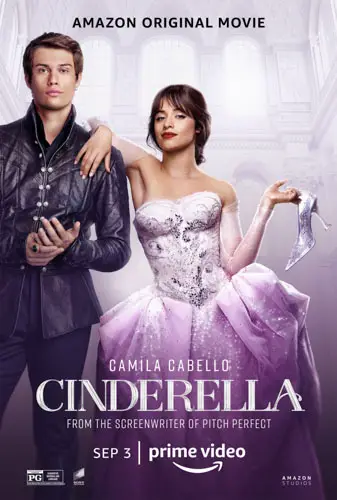 "…poorly ripping off Disney Channel productions..."