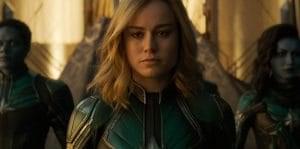 I'm just letting Y'all know that this is not a review written by some all-knowing Marvel genius or a living female manifestation of "The Comic Book Guy" from The Simpsons. Instead, it's written by a casual tourist, so forgive me if anything I say sounds dumb because I don't know everything about the Kree-Skrull wars or which issue the Flurkin is introduced. I'll leave that to the experts, of which there are plenty, who probably already have hour-long YouTube videos about the film.
"She was bestowed special powers that she has not yet learned to harness…"
Coming in (relatively) blind, Captain Marvel is two hours of fast-paced fun. First of all, I had no idea that Jude Law was in the film, and I love him. So I was very excited to see him at the outset of the movie as Vers' (Captain Marvel's Kree name) mentor of sorts, Yon-Rogg. When we first meet Captain Marvel…or Vers (pronounced Veers)…or Carol Danvers…she is on Hala training with Yon-Rogg. She was bestowed special powers that she has not yet learned to harness. She also has no memory of her life beyond six years prior and consistently has strange dreams that suggest she has another life…on another planet.
A co-star in this dream is someone that we eventually find out is Dr. Lawson. Dr. Lawson, who is also Vers' visualization of the Supreme Intelligence (the A.I. ruler of the Kree, who takes on the form of the person most important to whoever is in front of it at the time), is played by another person I never thought would be in a superhero movie, Annette Bening.