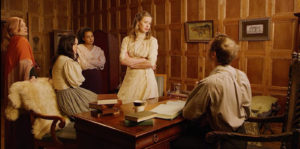 Evil doesn't just come to visit in Bordello, the intriguing Canadian western directed by Carlo Liconti. Written by Daniel Matmor, the film opens with Enoch (Kris Holden-Ried), who runs a country whorehouse in a weathered mansion in the middle of nowhere in New Mexico in 1889. He spends his days digging for gold on the property while Ada (Heidi von Palleske), Tara (Camille Stopps), Precious (Jessica Danecker), Martha (Hailey Summer), and Esi (Nisa Gunduz) perform sex acts for money. Also running around the place is 7-year-old Angel (Brooklyn Popp), the offspring of a sex worker who died giving birth to her.
Enoch dreams of making enough money to close shop and travel to Alaska to search for gold. However, business has been dwindling, and the bloodthirsty Sheriff Amshell (Frank J. Zupancic) is demanding more money. This small-time pimp is paid a visit by a big-time one named Madame Gabi (Diana Goldman). Madame Gabi is making her way back to Las Cruces after capturing a runaway sex worker, Mary (Taylor Thorne). She takes an interest in little Angel, saying that in five years, she will be grown enough to be put to work. Madame Gabi offers Enoch nearly enough money to get him to Alaska. He reluctantly declines the offer.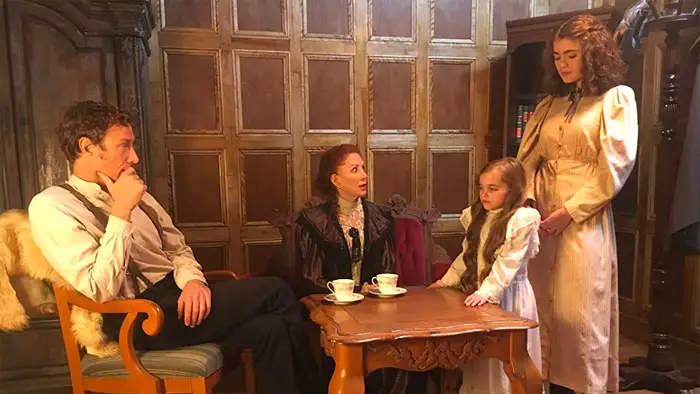 "…sex workers circle their wagons around little Angel, determined to ensure she isn't sold…"
The sex workers question Mary about what Madame Gabi is capable of. The badly beaten Mary informs them that Madame Gabi runs a secret house outside of town limits where little girls Angel's age are sold for sex. When Martha spies Enoch sending a letter off to Madame Gabi, she and the rest of the women go on high alert. The sex workers circle their wagons around little Angel, determined to ensure she isn't sold into child prostitution.
In John Ford's Stagecoach, a sex worker wonders out loud why she is being run out of town. An alcoholic informs her it is because she is one of the dregs of society. He then invites her to join him and become a glorified dreg. In untamed lands, the rules of society are inverted. The outlaws, sex workers, and drunks are mainstream, while the outsiders are so-called respectable folk from back east. This societal inversion grew more pronounced with the spaghetti westerns and more graphic with the R-rated cowboy movies later on. By making the sex workers the heroes and law and order the villains, Bordello keeps the upside-down social rules of the western intact. As women on the frontier only had the employment options of being a teacher or a sex worker, it also makes sense that more genre offerings should have w****s as the protagonists.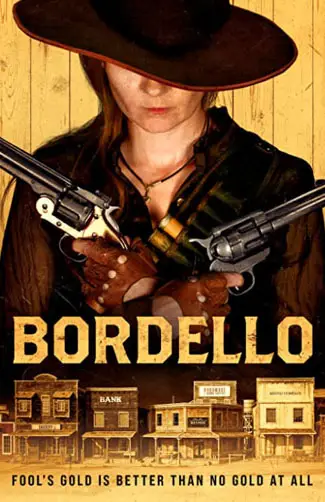 "…a foul-mouthed episode of Little House on the Prairie."