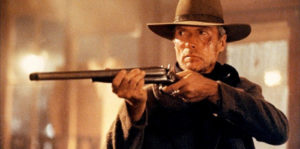 Unforgiven is Clint Eastwood's 1992 classic Western that serves as a tombstone on the grave of the genre that made him famous. Written by David Webb Peoples, the film stars the director as has-been gunslinger William Munny. Munny is a middle-aged, widowed pig farmer with two children, but in his youth, he'd been an alcoholic thief and murderer. When Munny met his wife, she helped him get sober, and afterwards, he led a peaceful life. When she died, he continued raising the children and the hogs, all the while staying away from booze.
One day a young man rides up to the farm and tells Munny that he's The Schofield Kid (Jaimz Woolvett), looking to make a name for himself as a gunslinger. He's heard about a bounty set by the prostitutes of Big Whisky, Wyoming, offering a bounty for the death of a cowboy who brutally maimed one of the ladies in an angry fit. Delilah Fitzgerald (Anna Thomson) made a comment that enraged the customer, and he slashed her face with a knife. Now horribly disfigured, she's unable (or at least unlikely) to ply her trade.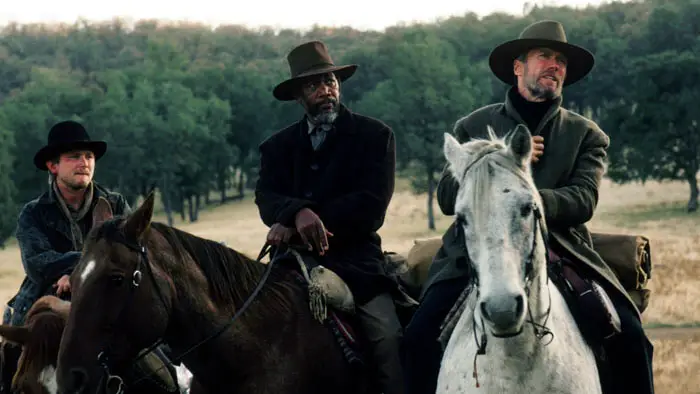 "…a bounty set by the prostitutes of Big Whisky, Wyoming, offering cash for the death of a cowboy who brutally maimed one of the ladies…"
The fact is that Munny is a bad hog farmer despite his best efforts and could use the cash. He looks up his old drinking buddy Ned Logan (Morgan Freeman), and it doesn't take much convincing to get Ned onboard. The three unlikely assassins light out for Big Whisky with dark intent. It all sounds very sexy, but Ned and Bill are old, out of shape, and out of practice. The Schofield Kid proves himself to be all hat and no cattle. Furthermore, he has bad eyesight and can't shoot very well, regardless of having chosen his nom de guerre based on the Smith and Wesson Schofield pistol he carries.
Running parallel to the main story of Unforgiven is the happenings at Big Whisky. The short-tempered and incredibly violent sheriff Little Bill Daggett (Gene Hackman) finds the news of what he calls "the w***e's gold" to be infuriating and annoying. He's too busy building himself a house to deal with hired guns shooting up the local ranch workers. The theme of violent men being bad at regular life is threaded through the narrative. Little Bill is no carpenter, but everyone is too afraid of him to tell him so. When gunslingers begin to arrive to try earning the prize, Little Bill sends them packing forcefully. 
The first to step up is another old-timer, English Bob (Richard Harris), who's brought along his personal biographer, Mr. W.W. Beauchamp (Saul Rubinek). Beauchamp has written of the exploits of English Bob, AKA "The Duke of Death," in pulpy, spectacular articles and books. After Little Bill beats English Bob almost to death, Beauchamp elects to stay behind in Big Whisky, having found a more colorful subject for his sensational sleaze. Once all the pieces are in place, the viewer need only wait for the arrival of Munny and his crew for the fireworks to erupt.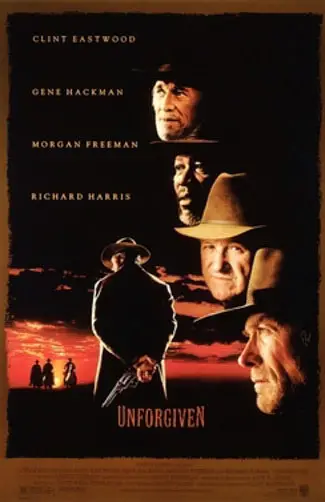 "…the deconstruction of the American Old West myth..."