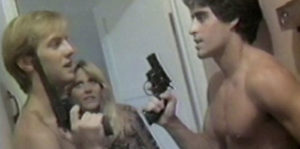 FANTASTIC FEST 2023 RETROSPECTIVE REVIEW! A young blonde teen's life is changed forever when her family moves from Mississippi to beautiful Orange County, California, in writer-director James Dillinger's 1980s cult thriller, Blonde Death.
Tammy (Sara Lee Wade) is a typical 16-year-old living under the thumb of her ultra-conservative stepmother, Clorette (Linda Miller), and her defeated father, Vern (Dave Shuey). As teens do, Tammy rebels, having enough of Clorette's rules. She defies every order, which results in a severe spanking by Vern. Tammy lashes out by befriending Gwen (Anne Kern), the local one-eyed lesbian. When Vern is sent overseas for his job, the rage-filled stepmother leaves the house for a few days because she can't stand Tammy's heathen energy.
With Clorette gone, Tammy explores her sexual side with Gwen. However, before the heavy petting can begin, Tammy is confronted by an escaped criminal named Link (Jack Catalano). At gunpoint, he tells Tammy to get rid of Gwen. All this excitement has turned Tammy on, and she and Link start having sex. Quickly, Tammy and Link are in love and plan to leave the country and live happily ever after. But their plans are foiled when Link's prison cellmate, bisexual Troy (Scott Ingram), arrives. Troy's got a violent side to him, but after Tammy catches Link and Troy "roughhousing," they convince her to engage in a "Ménage à Twat."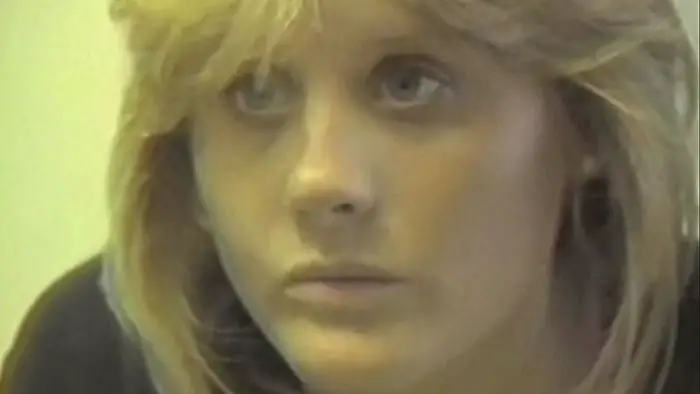 "…Tammy is confronted by an escaped criminal named Link."
Blonde Death is about as indie as it gets from the 80s. Released in 1984, the film was shot on VHS (which was pretty expensive back then). I've got to give credit to James Dillinger. The sound is above average. He uses natural light when he can, but during the dark sex scenes, he pulls out a high-wattage garage light.
The acting is halfway decent for a cast of truly green actors who find the fun in the cheesy dialogue and over-the-top emoting. The story plays out like a pulp-fiction novel. All our virginal heroine wants is a normal, idyllic life, but she's trapped in an abusive house. Tammy comes alive through sexual encounters with Gwen, Link, and Troy, but finding freedom comes at a cost through a series of violent murders, killings, and mass homicides. It ends in a Shakespearean manner, though this is nowhere near the Bard's work.
Blonde Death is a cult classic of the so-bad-its-good variety. The earnestness is here in the story without a single eye-wink. Of the few dollars spent on production, every single one was spent wisely. The characters are over-the-top crazy, and our virginal heroine doesn't stay virginal for long and yet remains worth rooting for. Even still, I don't think VHS is a format we will go back to.
Blonde Death screened at the 2023 Fantastic Fest.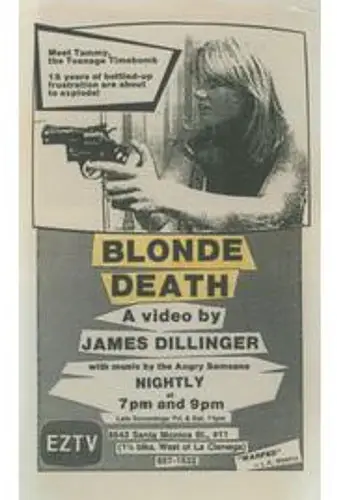 "…a cult classic of the so-bad-its-good variety."