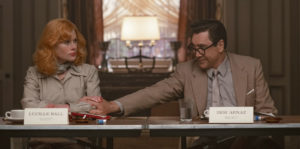 NEW TO AMAZON PRIME! My first feeling about Aaron Sorkin's Being the Ricardos is that this isn't the movie I expected. In other words, it's not your typical biopic, which quite frankly is refreshing. I wasn't on the Sorkin bandwagon until The Trial of the Chicago 7, and his take on the Lucy/Desi story just bolsters my respect for the man's writing.
Being the Ricardos takes place during a single week of prepping an episode of the iconic television show, I Love Lucy. This week is incredibly stressful as a gossip-rag story about Lucille Ball (Nicole Kidman) is about to come out claiming that she is a communist — a little-known but true fact. In exploring the characters of Lucy and Desi, Sorkin takes on the adage that there's no better way to know a person than putting them in a high-pressure situation.
I Love Lucy is a season or two in, so the sponsor and network have yet to be 100% behind the show. Pressure mounts as being labeled a communist would end the show. We soon find out Lucy is pregnant, but the network will not allow her to include her pregnancy in the story. On set, there's typical tension between the writers struggling to push out live episodes each week and discord with William Frawley (J.K. Simmons) and Vivian Vance (Nina Arianda), who resents playing Lucy's "ugly" friend. If that wasn't enough, there's Desi (Javier Bardem), who has to keep proving that he's loyal and faithful to his comedian wife.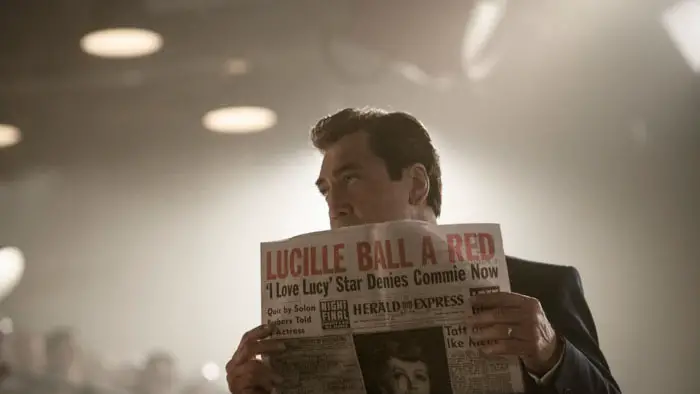 "…a gossip-rag story about Lucille Ball is about to come out claiming that she is a communist…"
Of course, Being the Ricardos is still a biopic. The present storyline is broken up with flashbacks to how Lucy and Desi met and fell in love. We also see her struggle to become a leading lady and her dominance as the number one television star in the world.
Let's address the most pressing questions. No, Nicole Kidman does not do a Lucy impression. The actors, for the most part, look and sound like themselves. The only impressions the actors do are during the filming of I Love Lucy. Nicole looks more like Nicole, and Javier Bardem is NO Desi Arnez (ugh). The lack of extensive make-up allows the actors to focus on their characters, which is where the film shines.
Sorkin focuses on Lucy, Desi, William, and Vivian. It's about a loving couple forced to deal with the pressures of Hollywood and to stay out of the dirt sheets and gossip magazines. It's about a driven woman and her insistence on getting the comedy down perfect, even if that means coming off as a tyrant. Politically, it spotlights how hard women had to fight to succeed and how Lucy got what she wanted only because she got the ratings and sold a lot of cigarettes for Phillip Morris.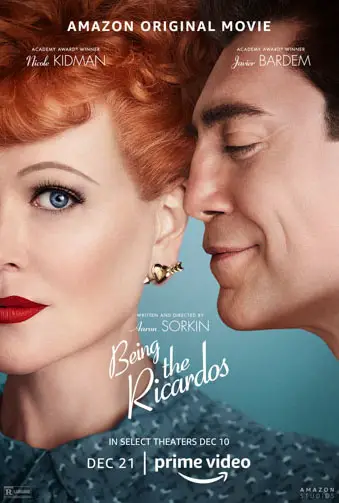 "…no, Nicole Kidman does not do a Lucy impression."