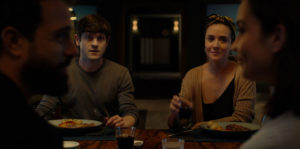 Adam (Iwan Rheon) and Eva (Catalina Sandino Moreno) have a lot to look forward to in their relationship. They are close to acquiring their dream home amidst exciting times in their personal and professional lives. For Adam's birthday, the property developer of the community (Gateway) Adam and Eva wish to call home, and friend Lucas (Tom Cullen) and his girlfriend Chloe (Inès Spiridonov) arrive to celebrate. But when fun banter devolves into unpleasant discourse and secrets unravel, their civilized dinner party quickly becomes hostile. To make matters worse, uninvited guests ensure that their night of celebration ends in misery and terror.
In writer/director Charles Dorfman's Barbarians, discomfort, and passive-aggressiveness are prevalent throughout, and Adam is at the center of it all. When his confident, sometimes overbearing friend comes to visit, he pulls out all the stops to appear self-assured and strong. You know, like a "real" man. In actuality, Adam's sheepish when it comes to standing up for himself and too timid to speak up in conversation. Witnessing these juxtaposing personalities contribute to an experience that is certainly uncomfortable but entertaining nonetheless.
As the story unfolds, these uncomfortable conversations accelerate to more concerning ones. But the real disconcerting aspect of this feature is how Adam sinks further into his diffidence to the point it drives him to do something he'll later regret. It's an interesting narrative to explore when considering how everyone's actions dictate Adam's life — all but his own. It also nicely taps into the exploration of what true masculinity is.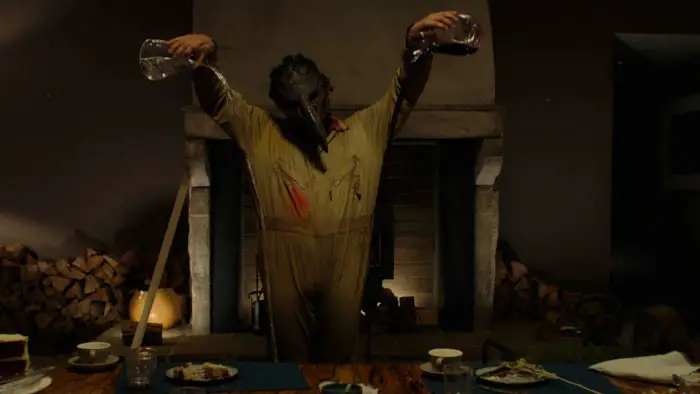 "…uninvited guests ensure that their night of celebration ends in misery and terror."
Such moments are when Dorfman's script and direction exceed expectations despite subjecting viewers to cringey conversations that encompass polite hostility. Barbarians is an uncomfortable watch, sure, but witnessing these people speak over each other and demand stupid things was entertaining enough. Unfortunately, the decent script, based on a story by Statten Roeg, turns into something completely different during its third act.
Just when the dinner resumes civility, a doorbell ring changes Adam, Eva, Lucas, and Chloe's lives forever. Unfortunately, as far as the home invasion genre goes, this one doesn't add anything exciting or new. In fact, its incorporation felt like a wasted opportunity to capitalize on the great momentum established during the first two acts. For one, the placement — slightly before the hour mark of this 90-minute feature — seems a bit off-putting, almost as if the filmmakers ran out of ideas to continue the main story. Additionally, no amount of mayhem brought on by its inclusion was enough to keep up with the more intriguing dynamics of the first narrative.
The idea that stolen land and the perpetrators of such offenses should be punished is not a bad concept to explore. But it feels cheap when it's treated as an afterthought to the problems with certain kinds of friends and the lack of self-confidence within yourself. Barbarians doesn't exactly earn the third act it's selling. There's no appropriate build-up, nor is there backstory into motivation aside from a quick sentence or two by the attackers. Still, there's some enjoyment out of the mayhem. I just wish there was more balance in terms of the execution of the various ideas.
Ultimately, Barbarians isn't a terrible entry to the home invasion genre. The film provides an engaging friend dynamic among the four leads, even while capitalizing on familiar territory. Some pacing issues result in a feature that feels a bit uneven, but I'd be lying if I said I wasn't entertained throughout all the craziness.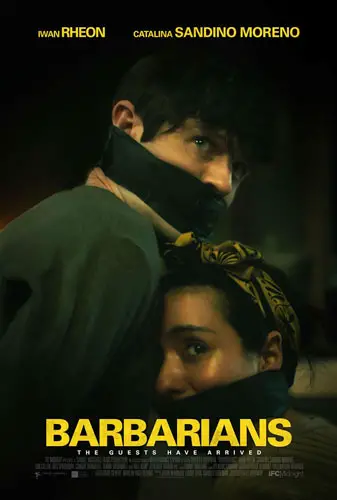 "…entertained throughout all the craziness."