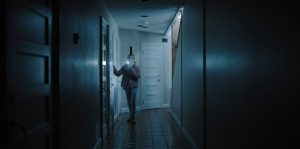 NEW TO THEATERS! It might be unpopular to say, but once a movie starts, so does one's opinion. The more professional approach to take would be to acknowledge reserving all takes on a film until the credits roll. But, frankly, that feels impossible. A motion picture might set its tone and objectives early on and not deviate from those, but if you're lucky, it will still surprise you.
With that in mind, I should be upfront and let everyone know that my arms were folded when See for Me began. Why? Because it immediately called to mind the terrific horror-thriller Don't Breathe, an admittedly superior movie. But director Randall Okita, working from a script by Adam Yorke and Tommy Gushue, manages to carve a path of its own.
Sophie (Skyler Davenport) is a former renowned skier whose reputation as an excellent athlete began at a young age. Now blind, her confidence and opportunities to ski like she once did have almost completely vanished. She is angry, and who could blame her? What Sophie once loved and was passionate about is no longer a part of her life, though she tells a character about opportunities for her to ski despite the challenges. Desperate for money, Sophie takes a job cat-sitting for a woman who lives in a mansion in the middle of nowhere. Sophie is secluded from the world, and it seems perfectly fitting for her.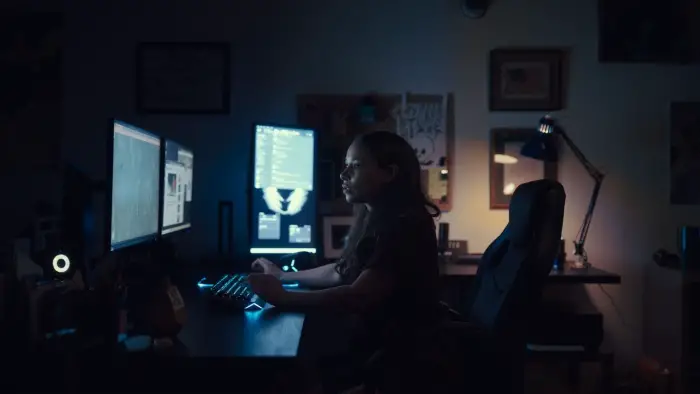 "…connects her with Kelly, whose primary function is to guide Sophie through any situation she needs assistance with, even if it means escaping a home invasion."
A secluded mansion in the middle of nowhere, you say. What could go wrong? Well, on Sophie's first night, three men enter the home on a mission to open a safe with an expected fortune inside. Sophie immediately calls the cops, but it will take them forever to get to where she is. She uses a phone app called See for Me, which connects her with Kelly (Jessica Parker Kennedy), whose primary function is to guide Sophie through any situation she needs assistance with, even if it means escaping a home invasion.
It is not hard to see the ways in which See for Me echoes Don't Breathe. That 2018 film was about three teenagers who break into a blind man's house to take a large sum of money he supposedly stashed away. Their mission obviously goes wrong, things get gnarly, and nothing goes as planned. The same goes for Adam Yorke and Tommy Gushue's screenplay, but the film never dips into horror, even though there are a couple of well-staged moments of unease and violence. These tense sequences are what help the thriller establish its own identity, even if the setup feels derivative.
The concept might seem like a gimmick, and it might be, as it was in Don't Breathe, but it's how you use it that counts! Davenport is a blind actor who gives the proceedings some added depth because she's able to convey a dramatic, manufactured scenario with some truth. See for Me, for its familiarity, offers enough thrills to merit seeking out.
See For Me screened at the 2021 Tribeca Film Festival.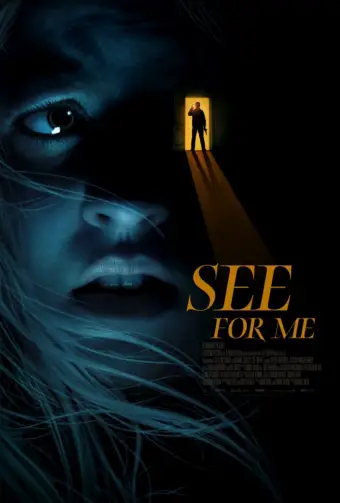 "…gives the thriller some added depth..."