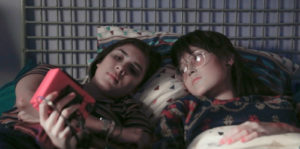 LOCARNO FILM FESTIVAL 2023 REVIEW! Desire, curiosity, hope, imagination, spiritualism, and escapism intermingle in director Juan Pablo Richter's 98 Seconds Without Shadow (98 segundos sin sombra). The drama, written by Richter and Giovanna Rivero, is an adaptation of Giovanna Rivero's novel and is set in 1986 Bolivia. The story explores a schoolgirl's longing for a surreal transition in her life, which transcends all barriers toward hyper-realistic imaginations and innocent thoughts of the future.
Living in a town she describes as a shithole, 16-year-old Genoveva (Iran Zeitun) desires to make her life elsewhere. Zeitun begins by breaking the fourth wall, introducing herself, and pulling the audience into her realm of overwhelming emotions and contradictory feelings. Her narration often takes over her conversations with other characters. The camera doesn't flinch or neither cut off. It's Genoveva who breaks in direct response to the audience, filling those conversations with her subjective thoughts and understandings. It's a creative move to truly establish the story as being told through Genoveva's wide and non-conforming lens.
Genoveva has seen a lot in her life. Her father, a former guerilla fighter, has succumbed to the influence of drug dealing. There are talks about girls disappearing from the town, possibly due to kidnappings and molestation by cartel members. The streets aren't safe, and the dirt of crime has infiltrated Genoveva's home. This subplot reflects the growing drug problem in Bolivia at the time, which becomes one of the several referential and thematic elements crucial to the lead's arc.
There is a lot of subject matter embedded here, possibly too much. Still, the filmmaker's vision and its execution are engrossing. With escape and freedom as the central themes, we are guided through Genoveva's observations and interpretations of life. The film is narrated in first person, just like the source novel. It is presented as an inference of Genoveva's daily experiences and subsequent takeaways from what she witnessed in her family, Catholic school, and town. 98 Seconds Without Shadow progresses in a narration that feels like being read straight from a diary.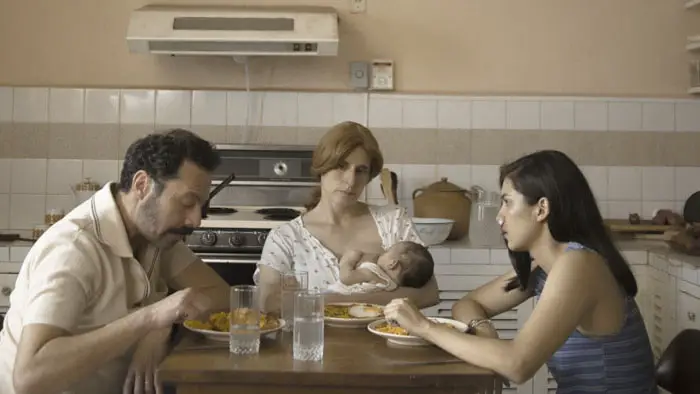 "The streets aren't safe, and the dirt of crime has infiltrated Genoveva's home."
Zeitun creatively and prolifically portrays the protagonist. Her voice-over is full of conviction, while her presence alongside other characters makes a lasting impression. Genoveva's best support comes from Florencia Ramirez, who plays Inés. Inés is Genoveva's only friend. The co-writers have written the most endearing scenes for these two to share. She is Genoveva's one person she can spend time with without worrying about anything, neither the past nor the future, thus achieving her true happiness. The actors are good together, and Ramirez embodies the hopes of her friend with class.
Richter shows off his talents in a scene featuring both younger and present versions of Inés and Genoveva. Seemingly shot without a cut, the sequence puts us in the crux of 98 Seconds Without Shadow and narrates what those titular seconds mean. Another such scene, a visualization of Genoveva's escape and freedom, adds dashes of surrealness in what is a dream sequence interspersed with the song Sueños de Neón.
The film also traverses the idea of conformism through Genoveva's catholic schooling, which imposes orthodox ideologies on the girls. There are also talks of escapism through a journey abroad, which quite efficaciously addresses both the optimistic and pessimistic sides of living abroad. In all these scenarios, Genoveva finds something new to learn and moves further toward her desires and newfound grasp over her surrounding physical and figurative atmosphere.
Yet, 98 Seconds Without Shadow is not a film about inspiring transformation, nor does it preach ideologies. It's just an interpretation of one girl's observations and imagination. It's about self-discovery through experiences. Most importantly, it's a film that visualizes thoughts through an admirable and remarkable intersection of the cinematic elements of image, sound, and dialogue.
98 Seconds Without Shadow screened at the Locarno Film Festival 2023.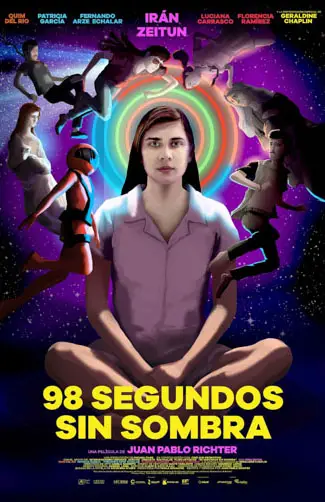 "…admirable and remarkable..."