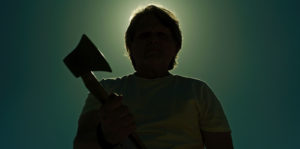 The best home invasion films are the ones that make us feel uneasy and unsure about our surroundings, supporting the notion that we aren't safe anywhere. They make us believe that we aren't always in as complete control as we like to think. In the aptly named horror film 8 Found Dead, director Travis Greene transports us to a secluded house in the middle of the desert. The invaders have already set up shop, and aerial shots kindle the unease right away.
Ricky (Eddy Acosta) and Carrie (Aly Trasher) are a pair of actors in love, or so they would like to think. Both are friends of the couple Sam (Alisha Soper) and Dwayne (William Gabriel Grier). Sam's an influencer who never lives in the moment, much to Dwayne's dismay. To rekindle their romance, they all agree to a weekend getaway at an Air Bed and Breakfast. Here, the couples run into unwanted guests, an older married couple named Richard (Tim Simek) and Liz (Rosanne Limeres). In true horror fashion, the vacation doesn't go as planned as rancor, shame, secrets, and misunderstandings engulf the characters.
Screenwriter Jonathan Buchanan cleverly structures 8 Found Dead in such a way that it amalgamates perspectives and messes with audience perception. For example, while Ricky and Carrie meet up with Sam and Dwayne at the same Bed and Breakfast, they get there at separate times, and both couples confront the unwanted house guests thinking their friends have yet to arrive. They have no way of knowing that because, of course, there is no cell service.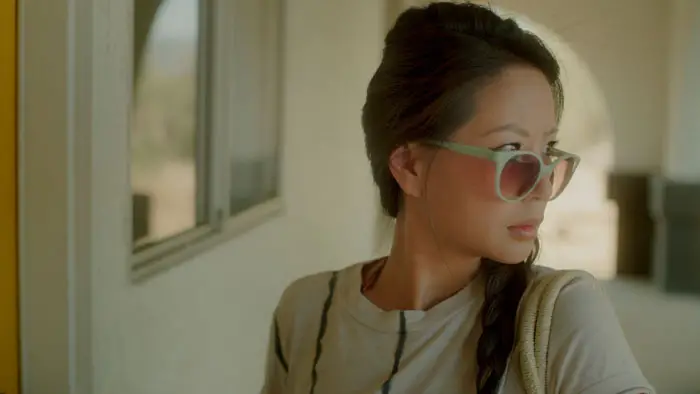 "…both couples confront the unwanted house guests thinking their friends have yet to arrive."
Regardless of the familiar set-up, Neil Evan's editing is magnificent, alternating between three perspectives. The first two waver between the central couples, while the third centers on two cops (Laura Buckles and Patrick Joseph Rieger) who wander into the Bed and Breakfast in the aftermath of a crime. Despite maneuvering from one perspective to the next throughout, the film never feels overstuffed. It, however, could have done without the cops and their banter, as they take up time and contribute very little.
As to characterization, the characters are almost caricatures, reacting vociferously or pettily to their partner's insensitivity, brought on by themselves or their partner's own doing. Who knew a statement like, "I don't follow you on Instagram," would trigger such disdain, but it is oddly appropriate considering the world we live in now. The heated confrontations would be void or short-lived if not for Liz and Richard, who slyly manipulate the young lovers at all angles and go off on tangents.
Liz and Richard are a strange couple, unusually lewd, brusque, and unpleasant. But they are the reason why the discomfort stings harshly, with their devilish smiles amping up the terror. The rest of the characters function to argue, fulfill millennial stereotypes, and attempt to talk their way out of a rather odd predicament while remaining overconfident — which is never a good quality to have in a horror film such as 8 Found Dead. The entire cast delivers intentionally outrageous performances, with Tim Simek and Rosanna Limeres having a blast playing the older and exceedingly cunning couple.
Near the end, Carrie and Sam are seen as having more dimensions, but the pacing and tone betray them. The last twenty minutes are absolutely, delectably insane, but the execution is disjointed, presenting a few too many jarring tonal shifts and overlong scenes. Be that as it may, a prolonged ending doesn't take away from the minutes that preceded it. In short, 8 Found Dead is a gripping and aberrant horror getaway.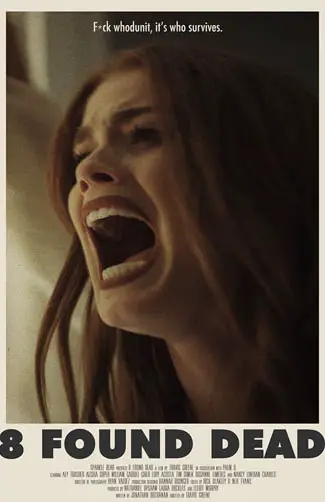 "…gripping and aberrant..."