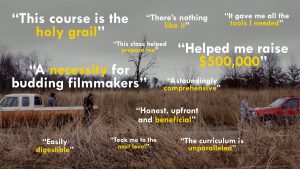 Taught by producer Stu Pollard (Rust Creek, Plus One, Freeland), whose business plans have raised millions of dollars in equity, INDIE FILM FINANCING is ideal for motivated filmmakers ready to get their film made. This course is an advanced version of the popular Producer's Toolkit: Business Plan Primer course that Stu has taught at Film Independent for more than a decade. 
Focusing on the key elements for creating a business plan, this comprehensive course will teach you how to form an entity, structure a plan, present your project, pursue equity financing, and connect with investors.
INDIE FILM FINANCING also provides valuable insights on the ethics and psychology of selling high-risk investments, tools for making your deal more attractive, guidelines for identifying prospects, and tips for maintaining relationships with financial partners.
The course features nearly four hours of viewable content, including 33 videos, downloadable documents and templates, workbooks and optional exercises, useful articles and links, and access to an exclusive Slack channel with fellow filmmakers. View a free module here.
For more information or to purchase the class, please visit LunacyU.com. 
Use the code FILMTHREAT21 for 10% off the price of the class. Code expires in 2022.
About the Instructor
With over two decades of filmmaking experience, Stu Pollard has a wealth of production knowledge to share. His producing credits include Rust Creek, Plus One, And Then I Go, True Adolescents, Ira & Abby and Freeland, which was released just a few days ago. He founded and runs indie production company Lunacy Productions and, in his spare time, teaches at USC and Film Independent.
Lunacy's thriller, Rust Creek (directed by Jen McGowan) was acquired by IFC Films and Certified Fresh by Rotten Tomatoes. It cracked the Netflix Top 10 in the weeks after its US release in December of 2020, and months later achieved the same feat in nearly 20 countries worldwide.