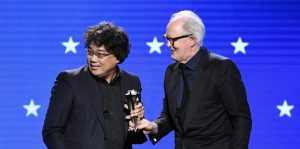 Better late than never. The Critics Choice Association announced last wee that the 26th Annual Critics Choice Awards will air on The CW Network on Sunday, March 7, 2021, from 7-10 pm and hosted once again by film, television, and stage star Taye Diggs on his third stint. The show will continue its combined Film and Television awards format, honoring the finest in both cinematic and televised/streaming achievement, and take place once again at the Barker Hangar in Santa Monica, health considerations permitting. Look carefully and you may see the editors of Film Threat hanging out in the background.
"Now more than ever, people are turning to film and television as a source of comfort, as a means of education, and as a way to connect," said Critics Choice Association CEO Joey Berlin. "With the revised timeline, we are looking forward to celebrating all of the brilliant new work created during this extended season."
As the ceremony has been delayed by three months, so has the nomination timeline.
February 1, 2021 – Nominating ballots go out to CCA Film Branch members
February 5, 2021 – Deadline for returning nominating ballots
February 7, 2021 – Critics Choice Awards Film nominations announced
March 4, 2021 – Final ballots go out to CCA Film Branch members
March 5, 2021 – Deadline for returning final ballots
Last year's Critics Choice Awards saw Once Upon a Time…In Hollywood take home four film awards, the most of the night, including Best Picture, Best Supporting Actor for Brad Pitt, Best Original Screenplay for Quentin Tarantino, and Best Production Design for Barbara Ling and Nancy Haigh. Best Actor and Best Actress awards were bestowed upon Joaquin Phoenix for Joker and Renée Zellweger for Judy, respectively. The Best Director race resulted in a tie between Sam Mendes for 1917 and Bong Joon Ho for Parasite.