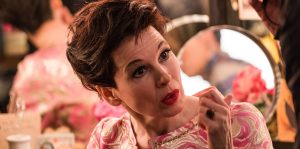 Biopics either play out a person's life story in a single narrative or take a moment in its subject's life and focuses in on a single poignant event. Rupert Goold's Judy takes the latter route and follows Judy Garland (Renée Zellweger) on her last tour of London in 1968.
The film opens with an aged Judy Garland attempting to pull the pieces of her life together. She lives in Hollywood and performs stage shows for mere dollars. She's "Hollywood" broke and the hotel housing Judy and her young children, Lorna (Bella Ramsey) and Joey, refused to let them stay after non-payment. Judy has no choice but to allow Lorna and Joey to stay with their father, Sidney Luft (Rufus Sewell).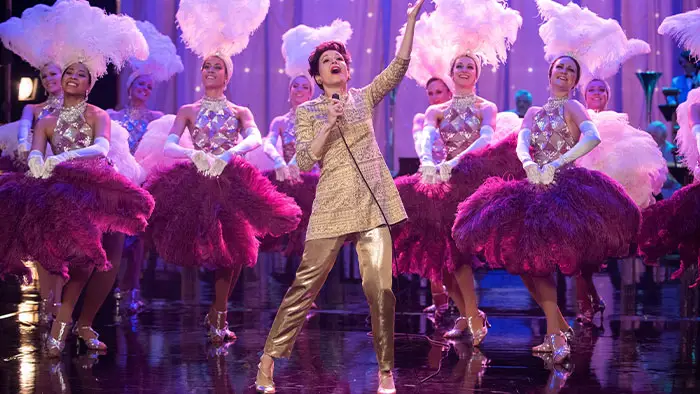 "Money comes in the form of a series of concerts in London, that will pay her handsomely."
That night, Judy heads to her older daughter Liza's (Gemma-Leah Devereux) home and stumbles in on a late-night party. There she meets Mickey Deans (Finn Wittrock), who will play a significant role later in the film. Judy's sole focus is to get her children back. If Judy is to accomplish this, she needs money and lots of it. Money comes in the form of a series of concerts in London, that will pay her handsomely. She just has to leave her kids for a few months.
The primary story takes place in London, where the famed actress literally and figuratively "puts on a show" for her fans. The contrasts are clear. On stage, Judy is the consummate performer belting out her hits. Audiences get a famous Hollywood Icon from the past. Backstage, she musters the nerve to perform with drug and alcohol-fueled courage. Her handler Rosalyn Wilder (Jessie Buckley) and bandleader Burt (Royce Pierreson) go above and beyond the call of duty to get her on stage every night.
As a character, Judy's belligerent behavior and questionable day-to-day choices are juxtaposed with flashback to her early studio days. Played brilliantly by Darci Shaw, young Judy is taken to the point of exhaustion by MGM studio head, Louis B. Mayer. His abusive treatment of Judy is uncomfortable (understatement) to watch as the Svengali-like producer emotionally manipulates her, physically starves her, and makes subtle gestures of sexual impropriety. This abuse is haunting Judy as one a star of old and then discarded when she was no longer any use.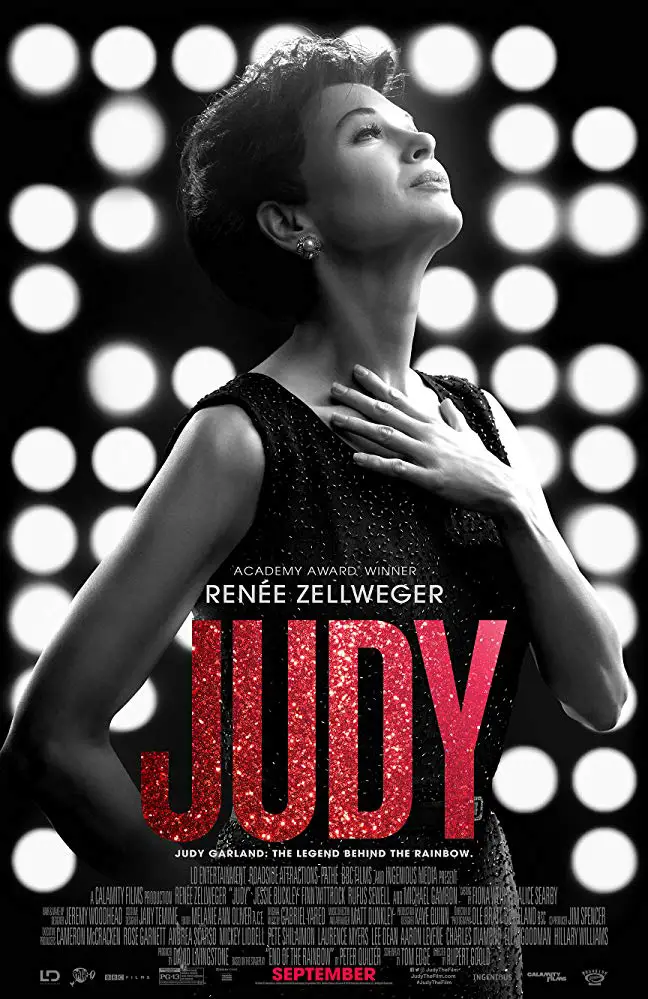 "…a film that screams Best Actress Oscar-bait..."