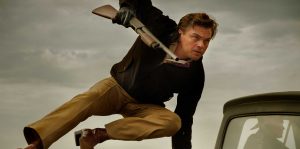 Unlike other reviews, I'm not going to gush about the greatness of Quentin Tarantino. I have nothing against him. I admire him as a filmmaker, but I'm not a superfan by any means. Once Upon a Time…In Hollywood is not what I expected as I think about his previous films and it utilizes a style of storytelling that I personally don't like. It's a good film…a better version of the Coen Brother's Hail Caesar! A film that kept popping up in my head.
Once Upon a Time…In Hollywood takes place in 1969 Los Angeles—a time near and dear to my heart. I was two-years-old living in Culver City less than a mile from MGM studios. While Hollywood to the child in me was this fake world of acting and phony facades. I came from a working-class family that made tangible/real things as opposed to a 90-minute flickering image only seen in darkened theaters.
Tarantino brings us into this fake movie world following the lives of TV star Rick Dalton (Leonardo DiCaprio) and his longtime stunt double Cliff Booth. In 1969, Hollywood, like Dalton, is experiencing its last moment of the golden age of movies and the studio system. Rick Dalton has just reached the peak of his stardom and reluctantly makes his downward descent into obscurity. The good-natured Cliff Booth is right behind Dalton, who was once a working stunt man, now making a living as Dalton's driver and gopher.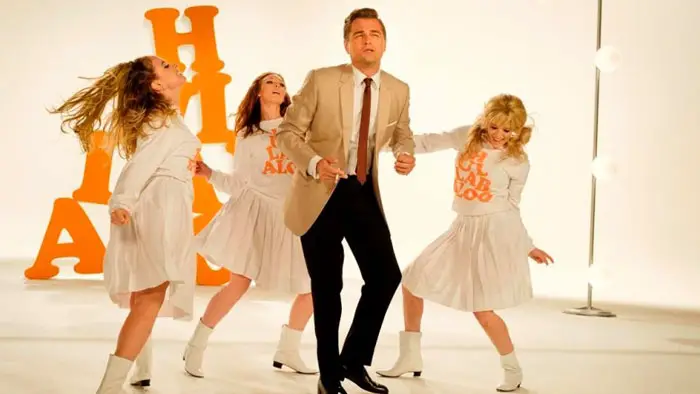 "…Hollywood, like Dalton, is experiencing its last moment of the golden age of movies…"
Essentially, the film is about Dalton as he hopes to inject new life into his career by taking a supporting role as the bad guy in a western and hoping not to screw it up with drugs and alcohol; as Booth occupies his time doing odd-jobs for Dalton and serving as the moral center of the film. There's a sweetness in both characters as Dalton attempts to re-discover his love of acting and Booth hopelessly seeking redemption from the series of unfortunate events that sunk his career in the first place.
"…"A single random event can launch you into stardom or sink your career with the Titanic.""